Sunday Chicken Supper
April 9, 2014 in Kitchen by Melanie
There's just something about a Sunday that makes me want comfort food. Maybe it's because growing up I remember two typical Sunday meals: Mom's crock pot roast and Dad's mac & cheese. Talk about comfort food… yum!
I still love a Sunday roast, and homemade mac 'n' cheese is my go-to comfort food, but I have also added a few new favorite meals to our Sunday evenings.
Sunday Chicken Supper is such a great Sunday meal! For one, it actually announces itself as the perfect Sunday meal right in its name. Can't go wrong there! And doesn't "supper" just sound more homey than dinner?
Besides that, it's simple to throw together, takes minimal effort, and tastes delicious.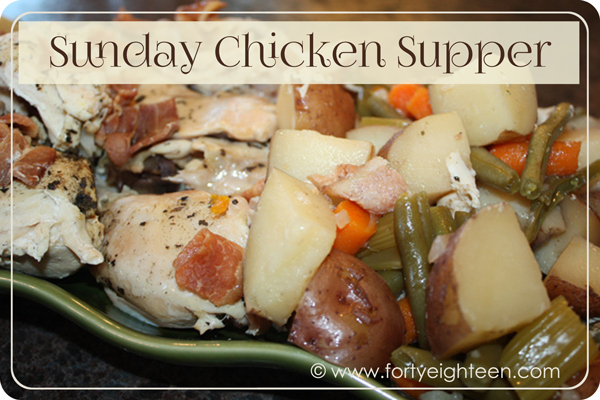 Sunday Chicken Supper
4 medium carrots, cut into 2-inch pieces
1 medium onion, chopped
1 celery rib, cut into 2-inch pieces
2 c fresh green beans, cut into 2-inch pieces
2 small red potatoes, quartered
1 broiler/fryer chicken (3 to 3-1/2 pounds), cut up
4 bacon strips, cooked and crumbled
1 1/2 c hot water
2 tsp chicken bouillon granules
1 tsp salt
1/2 tsp dried thyme
1/2 tsp dried basil
Pinch pepper
In a slow cooker (5 or 6 quart is a good size for this recipe), layer the carrots, onion, celery, green beans, potatoes, chicken pieces, and bacon. If you don't want to cut up a whole chicken, you can use pieces already cut up – like thighs or breasts – but meat really has a great flavor when it's cooked with the bones.
In a separate bowl, combine the water, bouillon, salt, thyme, basil, and pepper. Mix it up and then add it to the crock pot. Don't stir it; just pour it over the top. Cover and cook it on low for 6-8 hours or until the veggies are tender and chicken juices run clear. When it's done, set the chicken and veggies on a platter to serve, and then you can thicken the juices to use as a gravy.
My family happily gobbles this down every time I serve it, and I love that it's pretty healthy! (The bacon is more of a condiment… like an herb for seasoning.) Of course, it's great on a weekday, too.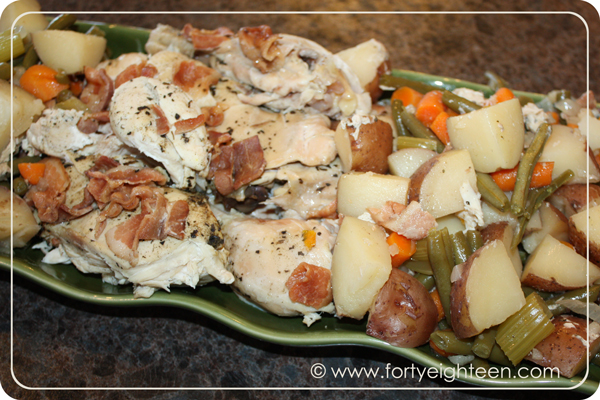 What do you love to eat on a Sunday?