Teaching Primary Music: Love is Spoken Here
February 24, 2014 in Family Room by Melanie
I am the primary song leader at church, teaching music to all of the 3-11-year-old kids. We sing their favorites over and over and over again, and I teach them at least one new song every month. Naturally the older kids are much easier to teach. They can read, they catch on faster, and they remember what we learned from week to week. The younger kids are much more challenging, but that makes it even more rewarding when they finally get it! 🙂
With the younger kids (junior primary) we sing a lot of action songs so the kids can get up out of their seats and move around. Church is loooooong for those little guys. The older kids (senior primary) love to sing some of the fun, harder songs they have learned in the past, although I have been known to make them sing some of the little kids' action songs, too.
I taught them how to sing Head, Shoulders, Knees, and Toes in Japanese, and now they request it. They want to learn it in more languages, so if you happen to be bilingual in body parts, hook me up!
This month I taught the kids one of my favorite primary songs, Love is Spoken Here. To help them learn the words, I found pictures that went along with key words in each phrase, printed them on white cardstock, and cut them out in heart shapes. Laminating them means they've lasted longer than a week, and sticking them to craft sticks gave me perfect handles.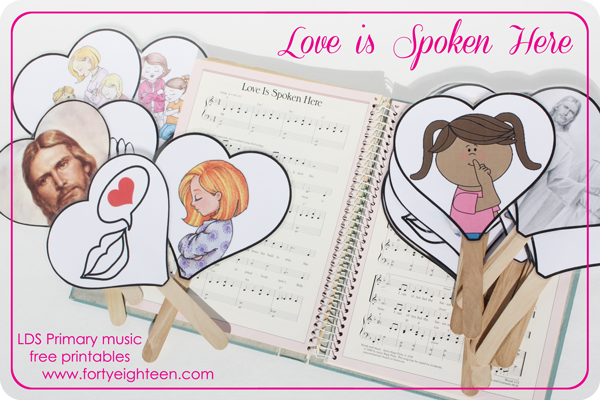 If you would like your own copy of these cute, cute signs to help you teach your little singers this beautiful song, you can find them on my Printables page. Clicking on the small image or the link underneath will take you to the full-size image. Then just right click and save it.
One last thing… I printed the last page (the ending) twice so there is a copy for each verse. I taught it at the end of each verse with the appropriate notes (the first verse goes higher and the second verse stays lower). That way, they're used to singing the right notes when we put the verses together, and it's easier for them to know which version of the ending to sing when it's time to harmonize. I love it when it all comes together!
Get them HERE. Happy singing!