Knock, knock! Who's there? Banana Bread!
April 4, 2014 in Kitchen by Melanie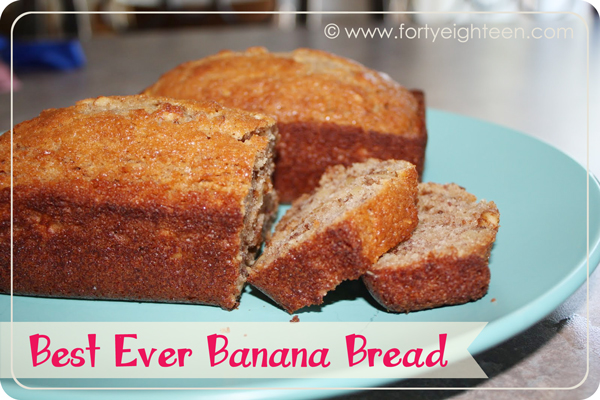 What is it with my family and bananas? When I buy them with a plan in mind, like a specific recipe or meal, they're inhaled before I have the groceries put away. When I buy them just because they're healthy and I think my family would enjoy eating them, they sit on the counter until they're covered in brown spots and make everything around them smell like rotten banana.
Luckily, overripe bananas are perfect for baking, and I have the yummiest banana bread recipe ever. Of course, as soon as we're down to two bananas that hang out and turn brown, Steve eats one of them out of a sense of duty and foils my plans. His upbringing of never wasting food no matter what doesn't mesh well with my upbringing of always using the overripe bananas for banana bread.
This morning I found two brown bananas sitting on my counter, so I went into stealth mode and hid them away before Steve could add them to his cereal that tastes like cardboard. When Chuck got home, we rescued the bananas from their hiding spot and happily mashed away.
I love, love banana bread, and this is a fabulous recipe. I love big chunks of nuts, and I never measure how much I actually put in. I make small loaves, mini loaves, muffins, mini muffins… lots of shapes and sizes of this moist and delicious yumminess. Cooking times vary with size, so you'll want to watch it so you don't end up with banana nut charcoal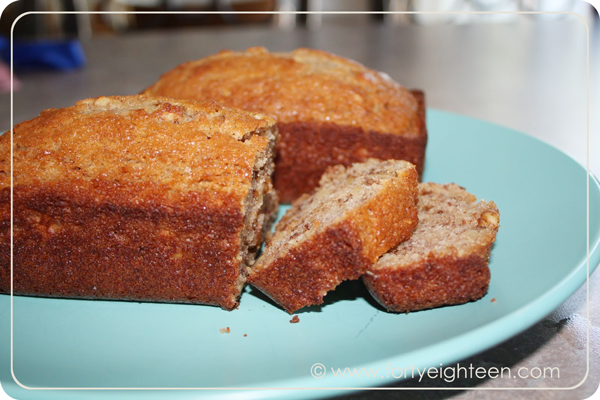 Banana Bread
3 eggs
1 c oil
1½ c sugar
2 c flour
1 tsp vanilla
1 tsp baking soda
1 tsp nutmeg
1 tsp salt
1 tsp cinnamon
1 c ripe bananas (about 2-4 depending on size), mashed
1 c milk
1 c walnuts (or more, if you're like me and just want the bread to hold the nuts together), coarsely chopped
Mix the dry ingredients, then mix the wet ingredients, then combine them until well blended. Pour into your baking pans and bake at 375.
In a full-size loaf pan, bake for 45 minutes or until toothpick inserted in the center comes out clean. Muffins and mini loaves take 15-30 minutes, just keep an eye on them.
My sister couldn't believe how HUGE my slices of banana bread are in this photo. I didn't know what she meant until I realized she thought those were full-size loaves. These are just mini loaves, but now I totally want to make a full-size loaf and slice it super thick because that sounds a-maz-ing.
By the way, that knock knock joke about bananas? Chuck's favorite joke.
Knock, knock! Who's there? Banana. Banana who?
Knock, knock! Who's there? Banana. Banana who?
Knock, knock! Who's there? Banana. Banana who?
Knock, knock! Who's there? Orange. Orange who?
Orange you glad I didn't say banana??? hahahahaha!
Number of times she told it while we were making banana bread? 11.
Sorry you missed it? Yep.
What do you do with your overripe bananas?