Stuffed Meatloaf Muffins
March 6, 2014 in Kitchen by Melanie
If left to fend for himself, Steve claims he would starve to death. According to him, it's because I set the standard so high, he wouldn't want to eat anything that's not as good as what he's used to finding on our table.
I suppose that's a good way to butter me up so I will keep feeding him delicious food.
Knowing I would be out of town for a week when I take the kids to grandma's house for spring break, and not wanting to come home to a husband who had literally starved to death, I whipped up a batch of these babies to load the freezer. I know, I'm pretty much the nicest wife ever. That lucky guy…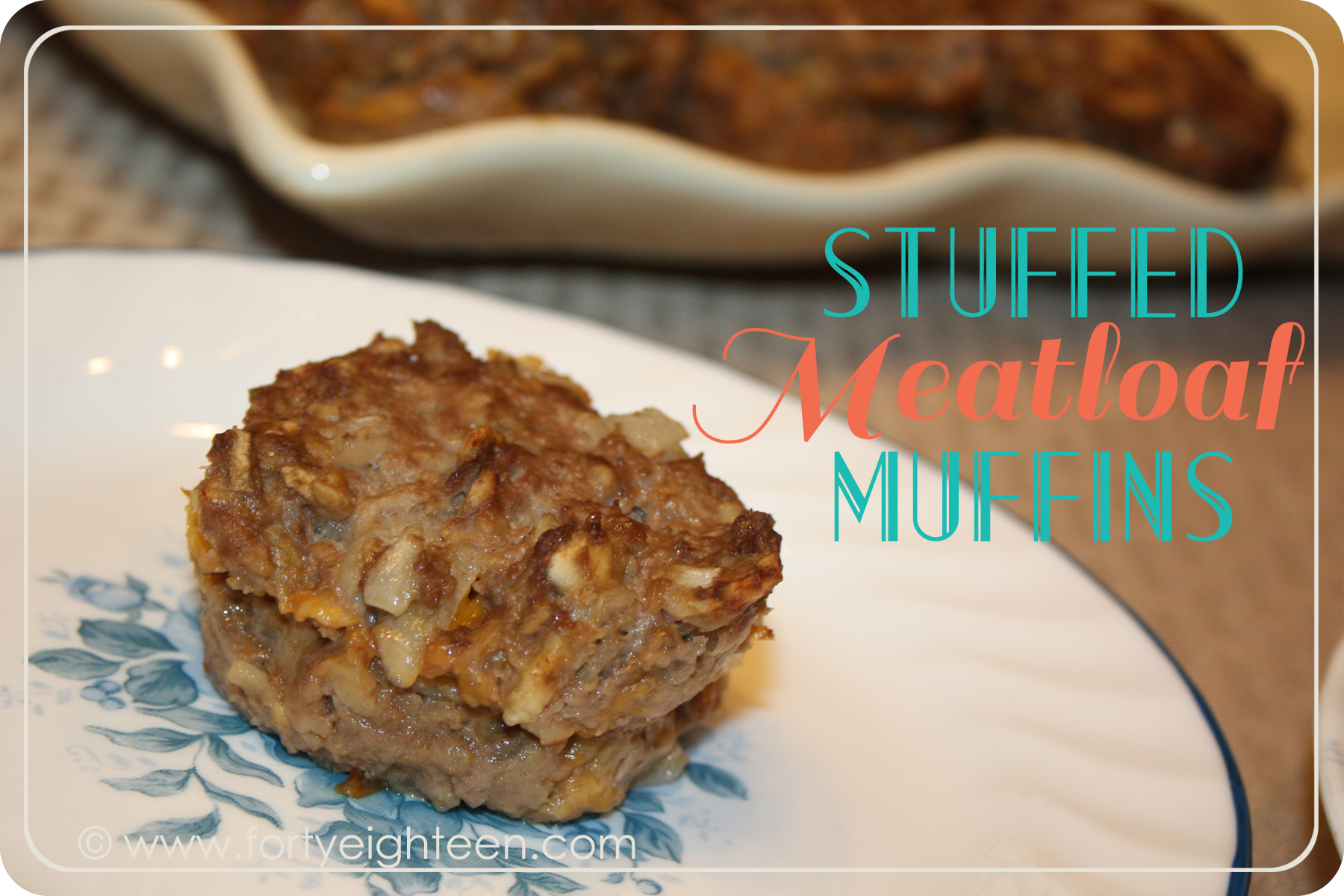 We absolutely love comfort food around here, and meatloaf is no exception. This Stuffed Meatloaf is one of his all-time favorite meals, and the kids all love it, too. I actually get cheered when I make it for dinner. It's pretty simple, too.
Stuffed Meatloaf
3 lbs ground beef
1 can cream of mushroom soup
1/2 medium chopped onion
1 long package soda crackers, crushed (I have used Saltines, Ritz, and Club and they have all worked great.)
1 small apple, grated (no need to peel it)
1 envelope onion soup mix, crushed
2 c grated cheese
Sauce:
1/2 c ketchup
1/2 c brown sugar
1/2 tsp lemon juice
Mix everything except the cheese and sauce. You can dig your hands and just go for it, or my favorite way to mix it up is to use a potato masher.
Spread out the meat mixture on waxed paper to form a rectangle about 1/2 inch thick. Spread sauce and sprinkle cheese over the meat and roll it up like a jelly roll. Place on a baking sheet and cover with more sauce. Bake at 350 for 1 hour or until done.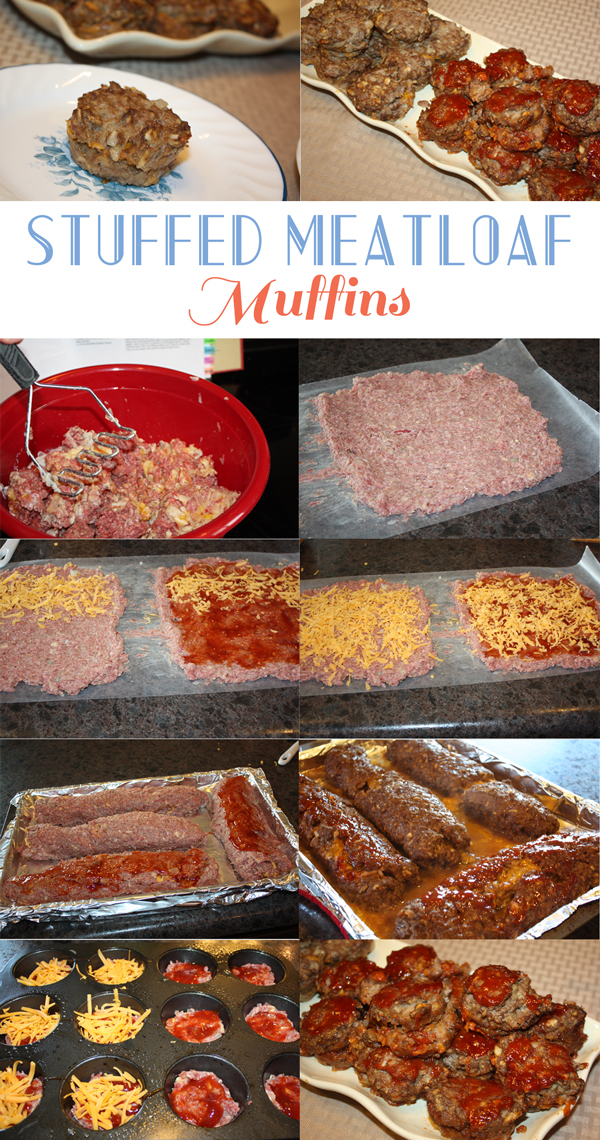 This recipe makes a ton. It does call for 3 pounds of ground beef, after all…So it's a great freezer meal because you can divide the meat mixture, make more than one loaf, and freeze some for later. I have also been known to make mini loaves by measuring 1 cup of meat mixture per mini loaf.
I don't like ketchup. Is that too un-American to admit?
I used to think I just didn't like meatloaf, but I'm such a carnivore that didn't make any sense. I finally realized it was just the sauce I had a problem with. So I started putting sauce only on half of the meatloaf. The girls aren't huge ketchup fans either, and half of them prefer the non-sauce loaves while the rest like to eat it with the sauce. Honestly, it's easy to make this work for your family however you would like!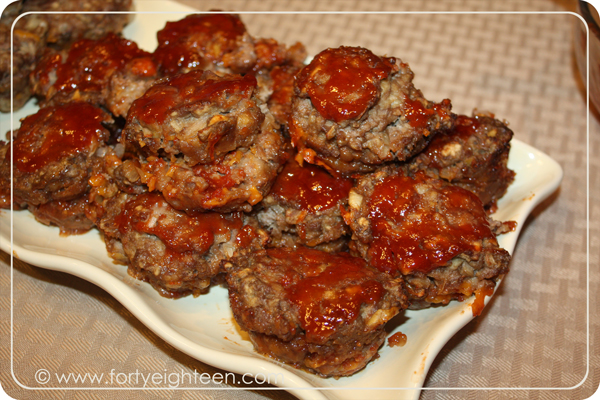 My absolute favorite way to make it – especially when I'm going to freeze it for later – is to ditch the full-size meatloaf in favor of little meatloaf muffins. They're so simple to make, a great serving size, and absolutely delicious! And it's so easy to pull a few out of the freezer for a quick meal or to keep my husband from wasting away while I'm out of town.
Stuffed Meatloaf Muffins
Fill each muffin cup half full with meatloaf mixture. Top with sauce (if you're a sauce person) and sprinkle with cheese. Then cover with enough meat mixture to fill the cup completely. Top with more sauce and bake 20-25 minutes or until done.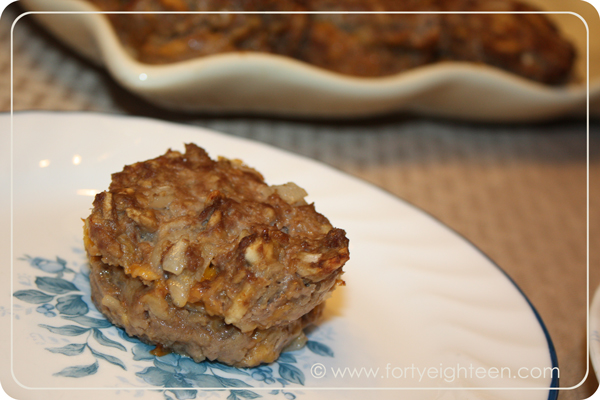 Any way you serve this meatloaf will be delicious! And you just might get cheered.
March is National Frozen Food Month, so I have been thinking a lot about my dream of filling my freezer full of delicious meals all ready to heat up and eat. I still haven't figured out how to make that dream a reality, so I'm working on it this month a little at a time.
Do you have a great meal that freezes well? Pleeeease share. Leave me the recipe or a link!