November 3, 2014 in Kitchen
We are HUGE smoothie fans around here. In fact, when I won my Blendtec blender a few weeks ago and brought it home, my kids were more excited to see it come through the door than they were to see me. It was given a prominent spot on the counter, plenty of love, and even a name befitting the newest member of our family: Lola.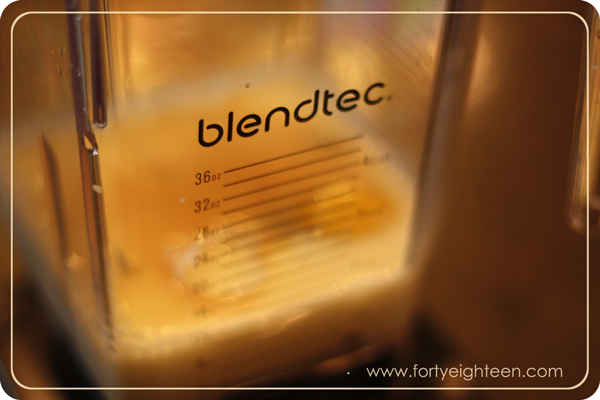 Seriously huge smoothie fans. So when Williams-Sonoma invited me to help them kick off Smoothie Week, I jumped at the chance!
This week's mission is "Not Your Average Smoothie." Fun!
Honestly, we usually stick to the same kind of smoothies. We have our favorites and we make them over and over… and over some more. But I really do love to mix things up, so I loved the challenge to do something wild and crazy.
My first thought was Mexican. I'm sure Lola would love that for a change. Throw a little cilantro and some beans in there, avocado, onion, tomatoes… then it started sounding more like a burrito than a smoothie.
As soon as we put away the Halloween costumes, my brain switched right into holiday mode. We spent this morning dancing in the kitchen to our well-worn Charlie Brown Christmas CD. And that's when it hit me. Two simple words: Egg Nog.
I loved, loved, loved egg nog as a kid. We had a simple homemade recipe and made it all the time. So I thought, how fun would it be to play around with the egg nog I loved as a kid and make it a smoothie my kids will adore, too???
Lola and I spent the morning making the perfect blend of smoothie goodness, and now I get to share it with you.
So let's get started with the egg nog. Only a handful of ingredients and a few seconds in the blender is all you need to whip up this family favorite.
Egg Nog
1 c milk
1 egg
1 Tb sugar
1/2 tsp vanilla
Dash cinnamon
Dash nutmeg
Dash salt (optional)
Toss everything in the blender and blend until combined.
I can't even remember the last time I had this egg nog, so naturally I had to whip up a batch first to make sure my memory wasn't playing tricks on me. It tastes just like it did when I was a kid. Simple, sweet, delicious.
Then it was time to play. mwahahaha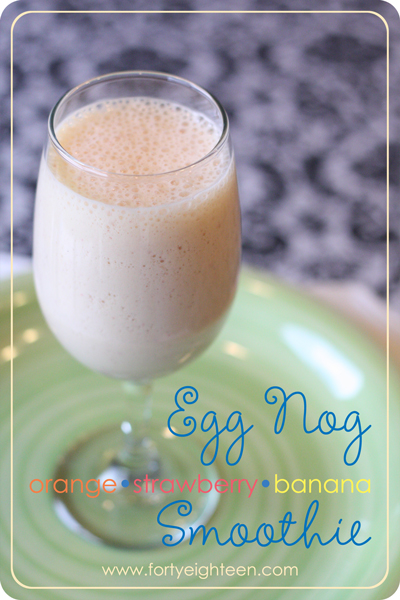 Orange-strawberry-banana sounded like the perfect flavor combination, and oh boy, was it ever. This makes a ridiculously creamy smoothie with a flavor that is subtle and delicious. It tastes great at first, but then that hint of vanilla and banana hit you and it tastes even better, so rich and creamy!
I can't wait for the girls to get home so I can share this new and improved version of a little taste of my childhood with them.
Egg Nog Smoothie
1 c milk
1 egg
1 Tb sugar
1/2 tsp vanilla
Dash cinnamon
Dash nutmeg
Dash salt (optional)
2-3 Tb frozen orange juice concentrate
1/2 frozen banana
2 frozen strawberries
Toss everything in the blender and mix until it's combined.
There's just something about tossing an egg in the blender and drinking it that makes me feel like Rocky Balboa.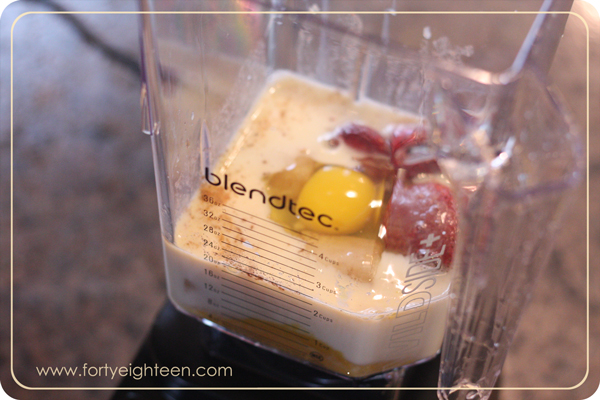 Yo, Adrian!
I gave the first taste to Steve, who proceeded to drink the entire thing. So I made up another batch and added a bit too much strawberry this time. It tasted like dessert. Still delicious, but I liked it better when strawberry wasn't the predominant flavor.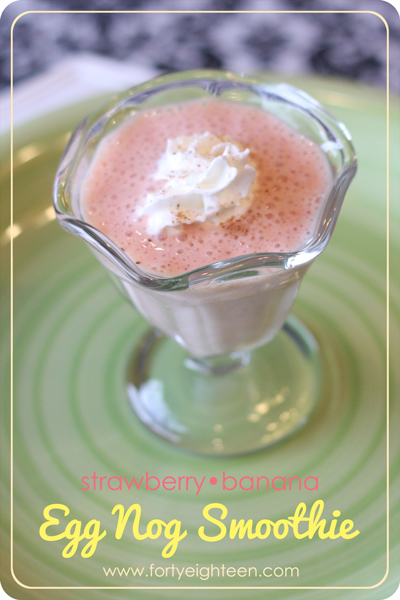 I am seriously in love with Lola. I could NOT believe it when my name was called in the drawing where I won her. I've had dreams of free Blendtec blenders, but I never thought that dream would come true. If you're still deciding which blender to dream about, check out the fabulous blenders at Williams-Sonoma.
I can already tell this Egg Nog Smoothie is going to become a fast family favorite. Adding eggs to my smoothies? I'll be catching chickens, scaling huge staircases, and beating Apollo and Mr. T in no time. Yo, Adrian!
Are you stuck in a smoothie rut? Make it your mission to do something better than average with your blender. We'll be sensational smoothie creators before you know it!
In the meantime, celebrate Smoothie Week with Williams-Sonoma and this Strawberry • Orange • Banana Egg Nog Smoothie. It's my new fave!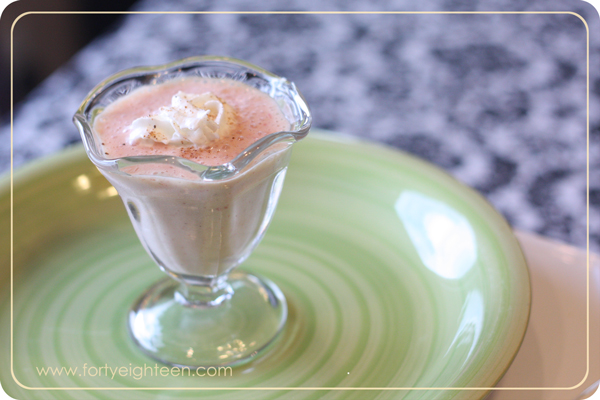 What is your favorite smoothie concoction? Or one you're dying to try?
Disclaimer: This post contains affiliate links, which means I will receive a small percentage if you purchase a product through one of the links. All content and opinions expressed are my own.