Grandma's Fruit Dip
April 14, 2015 in Kitchen by Melanie
If you're here from Love to Be in the Kitchen, welcome to Forty Eighteen and thanks for visiting!
My grandma was the most amazing woman. She had this way of making every grandkid feel like her favorite. She loved adventures and made everything fun. And she was the greatest cook in the world. Seriously, no matter what she cooked for you, it was the best thing you'd ever eaten.
My grandma passed away a few years ago, and I miss her. Every day. But she passed on her legacy with a family full of great cooks and even some of her amazing recipes.
Of course, getting her recipes was always a trick because she didn't actually use recipes. She just knew how to make things taste amazing. But sometimes someone in the family would sit and watch exactly what she did and write it down as she did it. And now we can recreate some of her genius.
Grandma's fruit dip is one of those recipes that someone wrote down, and I am so glad. It takes a typical whipped cream and marshmallow dip and kicks it up a notch or two. I love it on strawberries and bananas! It's great on melon, too, and apples. Try it on your favorite fruit and tell me how much you love it!
Also, it's super quick and easy to whip together – which is always a bonus. We serve it at family gatherings – large and small.
Grandma's Fruit Dip
8 oz Cool Whip
1 jar marshmallow creme (1 pint)
1 tsp vanilla
1/4 tsp lemon extract
1/2 tsp ginger
1/2 tsp nutmeg
Mix it all together. Eat with fruit.
That's it! That's all there is to it! It's yummy and you will love it. Just be sure not to add too much ginger. Ew. You can add more than 1/2 tsp to taste, but I'll just warn you if you get all the way up to a whole teaspoon, it's not as awesome as it can be.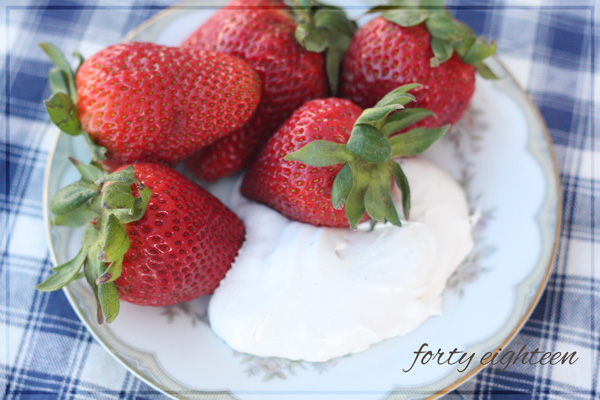 My favorite dessert is strawberries and cream, and this fruit dip is my "cream" of choice.
If you're looking for fruit dip, you need to run – don't walk – to check out the 20 Mind Blowing Fruit Dips I shared at Love to Be in the Kitchen.
Do you have a favorite fruit dip I need to try? Share! Please share!