Family Home Evening Fix-Up
January 11, 2014 in Family Room by Melanie
Every Monday night at 4018 is Family Night. We turn off the phones, ignore the doorbell, and just spend the whole evening together. Definitely my favorite night of the week.
A typical FHE looks a lot like this: We eat dinner when Mr. 4018 gets home. After cleaning it up bit (read: piling up the dishes in the sink), we gather in the family room.
Then we gather in the family room. Whoever is conducting that night gives us a warm welcome and calls on several people to choose songs for us to sing – usually our own family versions with crazy actions. My favorite is the melted snowmen dog pile on dad at the end of "Once There Was a Snowman."
After an opening prayer, then comes the "family council" part of Family Home Evening. We pull out the family calendar and update the coming week and figure out how we're juggling the chauffeur duties, church meetings, play rehearsals, practices, and games.
Next is the spotlight where one person tells us something awesome about themselves, shows us something awesome they can do (I make them play something on the piano), and then we all go around and say what we think is awesome about them. It's awesome.
After a lesson, activity, closing song and prayer, we end with a tasty treat.
We're good at getting together every Monday night, but it's usually thrown together at the last minute and I think we could be doing more. That's where this project comes in.

Our first FHE of the year was spent talking about changes we want to make and how we can make it better. We used this page to get the conversation going and take notes.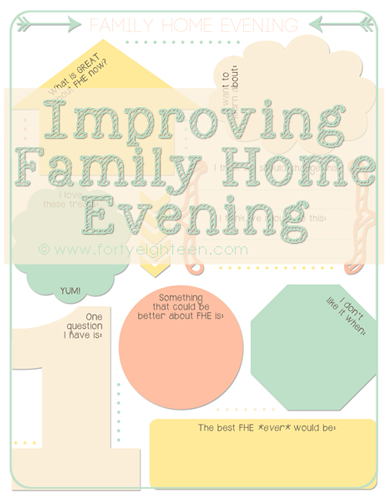 You can use this page, too. Just click on the image for the full-size version and then save it.
I learned some things I wouldn't have guessed and had some suspicions confirmed. Joy requested that we never attend another sporting event for FHE. Ever. According to Bree, we need to laugh a lot because it's a lot better than when we get "icy."
We decided to focus more on scriptures for the lessons and that whoever is assigned the lesson, activity, and treat will talk to each other about ways to make them go together.
I'm calling part one of project FHE fix-up a success. What do you do for Family Night?