Creamy Corn Salad
May 13, 2014 in Kitchen by Melanie
Welcome to Day #2 of Kick Off to Summer Week, a multi-blogger event co-host by Lauren of From Gate to Plate and Summer of Summer Scraps.
With summer quickly approaching and Memorial Day in a few weeks, we want to make sure you have plenty of ideas for your Memorial Day activities. Each day we will be serving up a variety of different appetizers, main dishes, desserts, decor, printables and more all centered around the up-coming Memorial Day. We hope you enjoy all of these wonderful ideas.
Tune in each day starting with Monday, May 12 and ending on Saturday, May 17. We have great prizes up for grabs throughout the week so you will not want to miss out on any of the days! Follow #KickOffToSummerWeek2014 on Twitter to keep up to date with all of our spectacular ideas and giveaways!
This week I am sharing a Simple BBQ Menu with you. Yesterday, we started with a fabulous main dish – my Easiest Ever Grilled Chicken marinade. So easy and delish!
Today we're moving on to a veggie side dish: Creamy Corn Salad. When I look at this salad now, I honestly wonder why I ever tried it in the first place. It is kind of an odd combination of ingredients… But I am so glad I did!
The combination is inspired and absolutely delicious! It's simple to put together, requires NO cooking, and goes great with yesterday's grilled chicken.
Creamy Corn Salad
1 can corn, drained or 1-1/2 cups fresh or frozen corn
1 tomato, diced
1 Tb green onions
1/4 c mayonnaise
1/4 tsp dill weed
Just mix it all together, serve, and enjoy! Of course, if you use frozen corn, you will want to defrost it first. Unless you like little corn popsicles…
I know it sounds weird, but just trust me and try it. You'll be glad you did!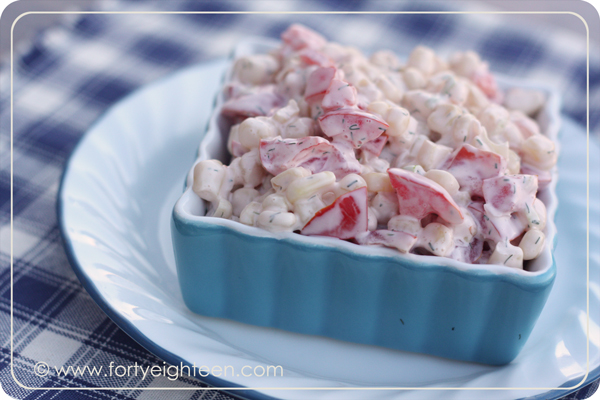 View all of the other Kick Off to Summer Week 2014 participants for more Memorial Day ideas!
Soft Butterscotch S'more Cookies by From Gate to Plate
Crunchy Peanut Butter Cookies  by Keep it Simple, Sweetie
Patriotic Quinoa Salad by It's Yummi
Salmon Burgers by The Haas Machine
Summer Letter Set by Summer Scraps
Creamy Corn Salad by Forty Eighteen
Classic Potato Salad by Clarks Condensed
Mini Cake Mix Sandwich Cookie Bites by Lady Behind The Curtain
Grilled Stuffed Flank Steak by Love in the Kitchen
Sun-dried Tomatoes – How to by Food Lust People Love
What is your favorite veggie side dish?