May 2, 2014 in Kitchen
Salsa is a breakfast food, right?
I mean, it could be. It MUST be a healthy choice — it's completely made up of vegetables, fruit (if you're in the "tomato is a fruit" camp), and herbs! Yep, definitely healthy. But do you have to serve this healthy salsa over eggs for it to be a welcome guest at the breakfast table?
I sure hope not. At this very moment I am enjoying the shovel-like qualities of my favorite tortilla chips as I use them to transport salsa from the bowl to my mouth as quickly as possible. And believe  me — if salsa for breakfast is wrong, I don't want to be right.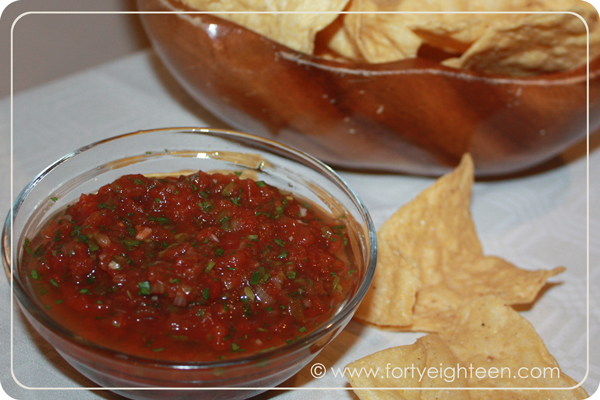 I may have already mentioned that I am a bit of a salsa snob. I am from Arizona, after all, where Mexican food is just the food we eat every day. There used to be this fabulous Arizona brand salsa at ONE grocery store in my hometown, but when it disappeared I couldn't find another bottle of salsa to take its place in my mouth, er, heart. That's when the search for the perfect homemade salsa began, and I have FOUND the golden ticket, my friends!
In my family, we lovingly call this "Suzie Salsa" because my dear cousin, Suzie, is the one who introduced us to this recipe. Of course, I am incapable of leaving a recipe alone, so I have tweaked it a bit. Still, Suzie may be my very favorite cousin now because she completely changed my life.
Ridiculous, you say? No, it's true. Salsa really can change your life. It can make you the most popular girl at the party ("Who made this salsa? It's amazing!!!") and the coolest mom your kids have ever known ("Suzie Salsa??? YESSSSS!!!"). Not only that, but my kids tell me I have "Ninja cooking skills" when I serve this salsa. Being compared to a ninja is the highest form of praise in this house.
All I'm saying is… this salsa can turn you into a Ninja! That's some amazing salsa.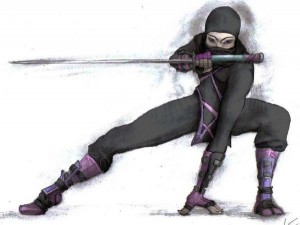 Now after all of this build-up, you're probably thinking no salsa could live up to the hype. Or this salsa must be so tricky to make that you could never succeed. Oh no, this is not the case at all. I really do get asked for the recipe everywhere I bring it, and it is SOOO simple to make you will almost be embarrassed to share the recipe when asked. But you still should, because it's not nice to know the secret to ninja salsa and not share it.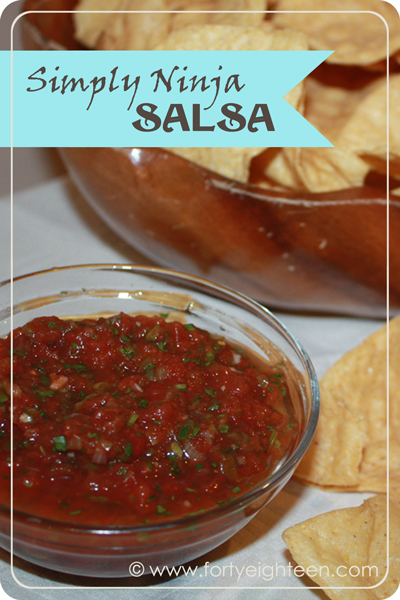 Simply Ninja Salsa
2 cans (16 oz each) diced tomatoes – you want the liquid, so don't drain them
1 bunch green onions – use all of the white and most of the green
1/2 c chopped cilantro – I buy cilantro by the bunch and then toss about half of the bunch in there
1 tsp salt – don't leave this out!
2 cloves minced garlic – if they're small, I use 3
2 Tb diced jalapenos – or as much as you want for your desired level of "hotness," these can be canned or fresh
Toss everything in the food processor (I LOVE my food processor) and pulse a few times until it's as thick and chunky or as smooth as you want it. That's it!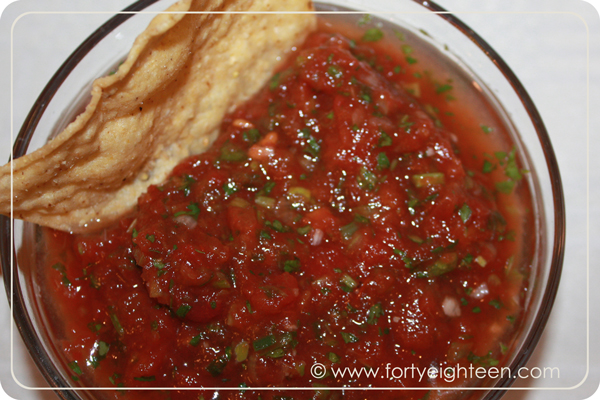 If you like your salsa hot and spicy, go ahead and toss some more jalapeno in there. My family likes everything mild (wimps!), so I sick to the 2 Tb, or even a bit less sometimes. Whatever your level of heat, it's delicious.
Not just delicious…. Ninja delicious.
I think I need to make a few of these. Think it will catch on?
Do you have a favorite salsa?
Disclaimer: This post contains affiliate links. I was not compensated for this post. All opinions are my own.