Family Valentine's Party
February 1, 2014 in Great Room by Melanie
I love Valentine's Day.
Love. It.
Sure, you have to pay 4 times as much as usual for flowers and chocolate. Okay, greeting cards are expensive and cheesy. Maybe the pressure can get a little high to plan the perfect romantic evening. And then there's the whole "It doesn't mean as much if you're doing it just because of a date on the calendar" argument.
Whatever.
Haters gonna hate, but I think any day devoted to expressing your love to the people closest to you is a good thing.
Who says you need ridiculously expensive flowers and chocolate and high-pressure dates to have a great day???
My favorite Val's day tradition is our family party. It started when the younger kids wanted to exchange valentines like their big sisters did at school. So we set up bags next to the dinner plates and everyone passed out their little valentines.
We loved it so much that now we do it every year… except the year Chuck was in the hospital with RSV and pneumonia on Valentine's Day. Ah, family life. Never a dull moment.
It always starts with a fun dinner. One year we did a big breakfast for dinner complete with biscuits and gravy, hash browns, fresh fruit with homemade whipped cream, eggs, juice…. it was divine. Whatever we eat, it's always something everyone loves.
We decorate the table and make sure there's a spot for everyone's valentines. I love the monogram bags we made last year. The bags were Christmas clearance items I bought for pennies. I cut the letters and hearts out of cute scrapbook paper with my silhouette and just glued them on. Easy, cheap, and cute – my favorite kind of craft!
I bought those cute little boxes of chocolates that you can find for a dollar or two, and set one at each place. For a "centerpiece" we sprinkled candy down the center of the table. Appetizer, decoration, and dessert in one!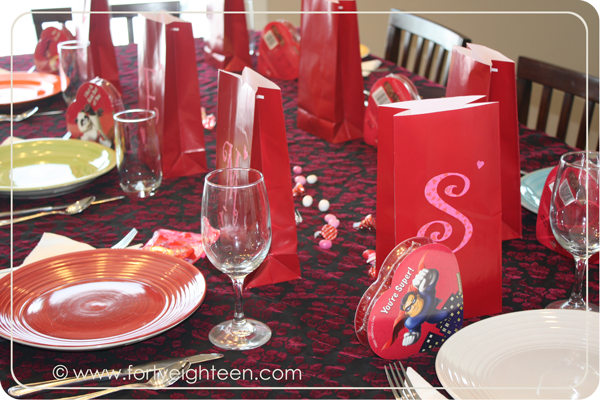 We read our valentines, eat yummy food and treats, play fun games, and have a fabulous night together celebrating how much we love each other.
Of course, I love to celebrate with my sweetheart, just the two of us – and we will – but who doesn't love an excuse to celebrate just being a family?
How do you celebrate Valentine's Day???