May 1, 2014 in Mailbox, Out the Door
My girls LOVE animals. Bree asks me every day if we can get a dog – like maybe the answer has changed since the day before. She tells me how great it will be to learn all about how to care for it – with the promise that I would never have to do anything myself, of course. Unfortunately for her, Mr. 4018 and I haven't caved yet, so she keeps begging and trying to use her cute baby animal eyes on us to change our minds. In the meantime, she has to get her cute baby animal fix somewhere else.
We all know baby animals are cute. Exhibit A:
You may think it doesn't get much cuter than that, but add some cute kiddos loving those baby animals and you've got one of the cutest things you will ever see. Exhibit B: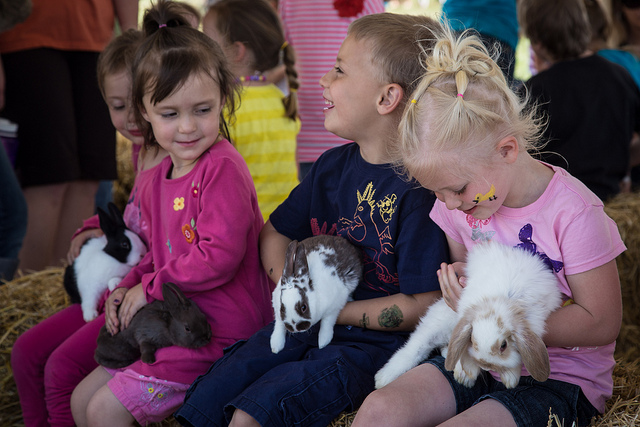 If you want to win major points with your kids and see those adorable faces light up with HUGE smiles (and you're not giving in to the puppy dog eyes for a baby animal of your own either) and you live in Utah, I have the perfect event for you!
Baby Animal Days is a Utah State University Extension event at the USU Botanical Center in Kaysville, Utah on May 9-10. Visitors are invited to get up close and personal with the animals.
Your little cuties can meet baby ducklings, chicks, bunnies, goats, kids, lambs, piglets, calves, baby llamas, and miniature horses. They will love being introduced to the baby reptiles. The event also includes children's activities, horse rides, sheep shearing demonstrations, miniature train rides, a climbing wall, and bouncy houses. What a fun way to spend some time next weekend!
For more information, including driving directions and a schedule of events, visit the Baby Animal Days website. Tickets range in price from $5 for an individual to $25 for a family of 6. Military and garden member discounts are available. You can buy your ticket at the gate or pre-order HERE.
I know my little ones would be in heaven at Baby Animal Days! I will definitely be there, and I have two exciting offers to help you get there, too.
First, Forty Eighteen readers can use this promo code: TAKE5 to receive $5 off a family pass.
Second, the awesome folks at USU Extension have given me a free family pass to give away to one of my favorite local readers! If this sounds like an event your family would enjoy, be sure to enter using the rafflecopter below. Enter by May 7, and I will announce the winner on May 8. You can choose either day to use your pass, May 9th 2-8 pm or May 10th 10 am – 6 pm.
And while you're in the entering mood, don't forget to enter to win a 5-day RV vacation. How much fun would that be?!?!
We'll see you down on the farm!
Which baby animal will your kids be most excited about meeting?