St. Patrick's Day {free} Printables
March 11, 2014 in Mailbox by Melanie
My dad's family is Irish – and I have the fiery temper to prove it! The story of my first ancestor who came from Ireland to America is full of action and adventure: fight scenes, robbery, murder, near-death experiences, cowboys and Indians, and the wild, wild west. He definitely didn't have it easy. I would love to meet the man who went through so much to make a better life for my family. I just wouldn't want to make him mad…
With our Irish heritage, we love St. Patrick's Day. I love any excuse to give fun treats and sweet notes to family and friends, and this holiday is no exception. It is the perfect time for some extra cute love notes attached to super sweet treats.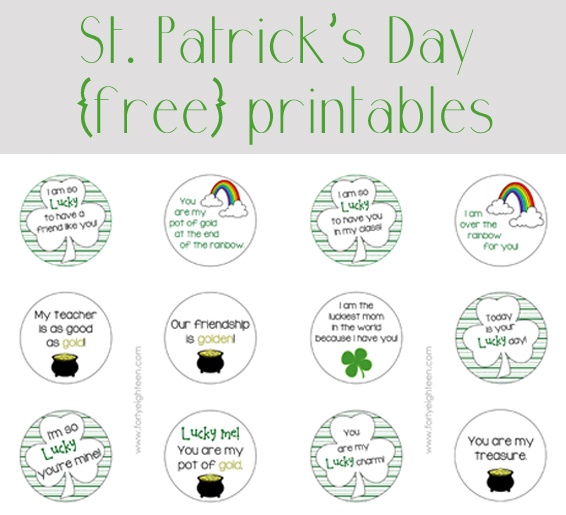 Day 2 of Free Printables Week features these fabulous St. Patrick's Day tags. My incredibly talented friend, Carrie, at My Recipe Confessions asked me to put together some fun tags to go with her amazing Pots of Gold. Naturally I jumped at the chance to work with her on something so fun!
These tags are so simple to use. Here's what I did in 4 simple steps:
Print them out on white cardstock.
Punch out the circles with a 2 1/2-inch circle punch.
Punch a 3 1/2-inch scalloped circle out of colored cardstock for each tag.
Attach the tag to the colored paper.
So easy – and so cute!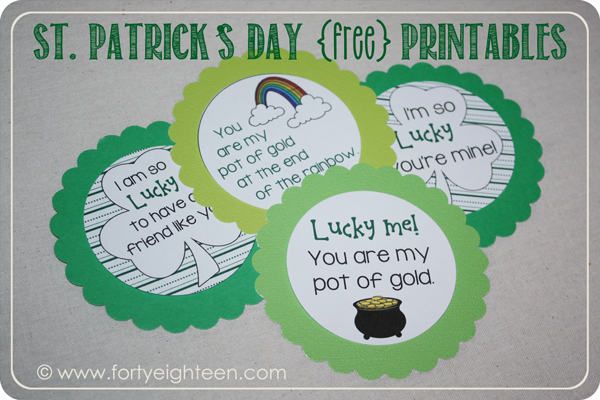 You could leave them just like this and place them around for your family to find (like on a pillow or mirror). Or you could step it up a notch and add some goodies! Maybe punch some holes and tie the tags to your treats.
You can find the perfect Pot of Gold treats and Rainbow Sugar Cookies to give with these tags at My Recipe Confessions, so be sure to visit Carrie and check out her adorable crafts and incredible recipes.
To download these tags, simply click on the photos below to get to the download page. There are 12 different tags in all. The first two sheets have one of each tag like a sampler. The rest of the pages are single sheets with multiple copies of the same tag. If you are looking for a note for a group, class, or big family, these are perfect for you! There are 8 tags on each of those sheets.
You can find these on the Printables page, too.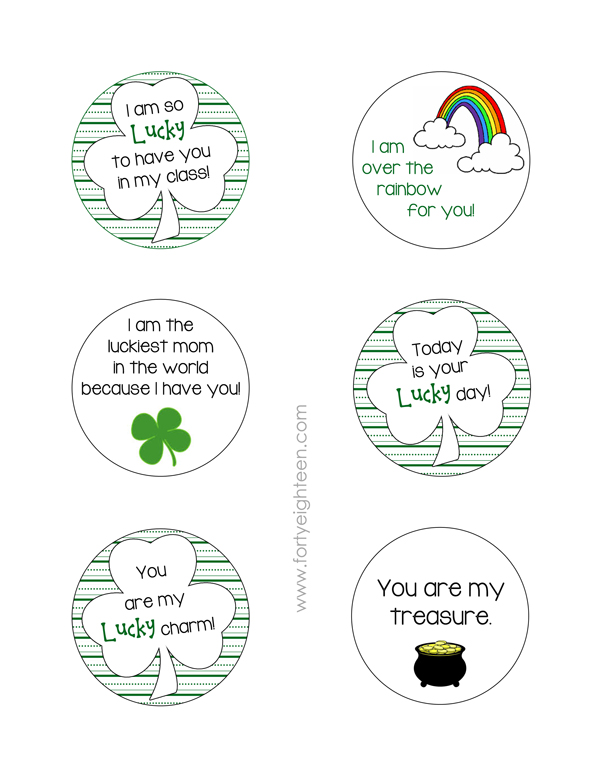 How do you celebrate St. Patrick's Day?
Did you catch day 1 of Free Printables Week?