March 4, 2014 in Kitchen
I am a HUGE fan of breakfast for dinner. Honestly, I prefer dinner leftovers for breakfast and breakfast food for dinner. But if the dinner is breakfast food… then wouldn't the leftovers be breakfast, too? Hmmm…
We have an old family recipe for the greatest pancakes ever.
Greatest. Ever.
Buttermilk pancakes made with whole wheat flour and topped with warm caramel syrup — that's just about as good as pancakes get.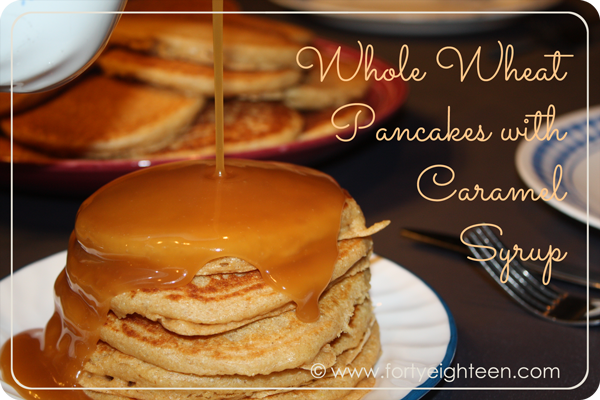 Seriously, these are so good. And they're pretty healthyish – as far as pancakes are concerned – because they're full of whole grain flour and no sugar.
We like to mix in fruit and nuts, too. Try mixing in bananas, pecans, and mini chocolate chips. You will think you have died and gone to heaven. Strawberries and peaches are divine, too.
So here's what you do…
Whole Wheat Buttermilk Pancakes
2 c whole wheat flour
1 tsp baking soda
1 tsp baking powder
1 tsp salt
2 eggs
2 c buttermilk (or 1 c milk + 1 c buttermilk)
2 Tb melted butter
Mix the dry ingredients with a whisk – that's the flour, baking soda, baking powder, and salt. Or you could sift the flour, but whisking is so much easier and works just as well.
Then mix in the wet ingredients – eggs, milk, and butter. I generally opt for the half milk – half buttermilk option, but you can do either one. Be sure to mix out all the lumps, and you're done! Simple!
You can add more milk as needed to make them them as thick or thin as you want. I tend to like mine a little thinner, but lately I've been keeping them thick and they're growing on me.
Now, not to brag or anything, but I have to admit, I am the pancake master. My pancakes are perfect every time. So I'll let you in on my secrets…
I always use an electric griddle when I'm making pancakes at home. I set it to 350 and wait until it's hot.
I use a 1/4 c measuring cup to scoop my pancake batter. This makes the pancakes a great size, but more importantly, they're all the same size. That's important because when they're all the same size, they take the same amount of time to cook. I can fit 8 perfect pancakes on my griddle.
Wheat pancakes take a bit longer to cook than what you may be used to, but the principle is the same. Wait until you see the bubbles form on the top and start to pop. Then it's time to flip them. The second side doesn't take quite as long as the first. And then you're done.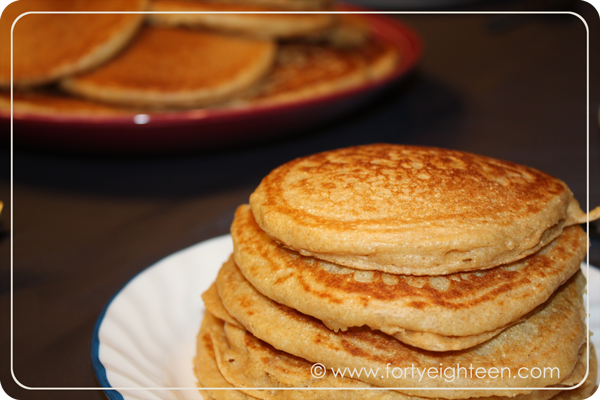 My kids are hugs fans of Mickey pancakes, so we make those all the time. I still use the same 1/4 c measuring cup to scoop the batter, but this time I only pour out about 1/2 to 2/3 of it to make the head. Then the rest becomes the ears. The pancakes in that linked photo aren't wheat pancakes, but they're pretty good Mickeys with a pancake mix. (By the way… that links to my Instagram account if you want to follow me.)
Now these are great with regular ol' maple syrup or blueberry syrup or strawberry syrup…. pretty much if you have a favorite syrup, it will work with these. But my all-time favorite is this amazing caramel syrup.
Caramel Syrup
1/2 c butter
1 c buttermilk
1 c sugar
1/2 tsp baking soda
2 Tb light corn syrup
1 tsp vanilla
You need to use a large pot because this foams and gets big as it boils. I tend to make a double batch (and a double batch of pancakes) for my big family, so we definitely use a big pot.
Mix the butter, buttermilk, sugar, soda, and corn syrup in the pot and bring to a boil. Let it boil for about 7-10 minutes until it thickens slightly. It will get a little darker, too. The last batch I made looked like this right before I took it off the heat.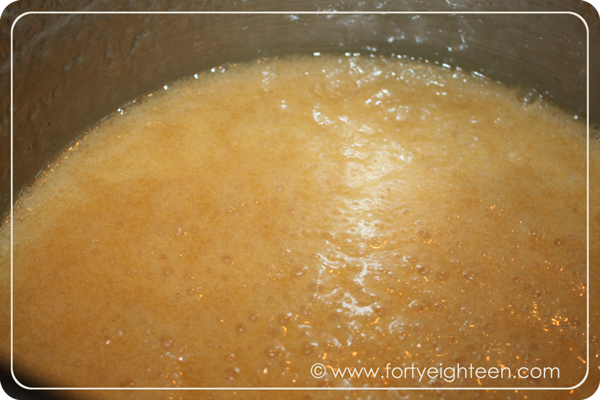 Confession: I never actually time it, so I'm not sure if that 7-10 minutes is accurate. I just know that's what the family recipe says. I just watch for the thickness and color I want.
When it's the right color/thickness for you, remove from the heat and add 1 tsp vanilla. It will thicken a bit more as it cools.
Pour over pancakes and enjoy. Or scoop it up with your fingers, eat it with a spoon, dip cookies into it… I have used this syrup as a topping on cheesecake and ice cream before, and it's amazing as a dessert topping, too. However you eat it, it's so, so good.
Do you like breakfast for dinner?