40 Family Home Evening Ideas
May 18, 2014 in Family Room by Melanie
"Family Night is always fun. We find so many things to do."
I remember singing those words with my family on Monday nights and thinking that song was hilarious. Family Night is ALWAYS fun? With 6 kids in the house, family night was always an adventure. Maybe that's what the song should say.
Family night's an adventure. We hope that we will make it through!
I have been working this year to improve our Family Home Evenings. We rotate the weekly assignments, which means every kid – even the 6-year-old – takes turns teaching the lesson. Usually they look at the chart on the way from the dinner table to the family room and say, "Oh, I have the lesson!" They whip out the closest Friend magazine they can find and read us a random story.
We're working on putting a little more thought into our lessons. We all know it's not easy to come up with lesson ideas week after week, and it's even harder for a kid. So in an effort to help them prepare their lessons, I made this list of themes to choose from. It's helpful for Mr. 4018 and me, too!
Since today is the 18th, it's time to celebrate 4018 with 40 Things! So here is a list of 40 Family Home Evening lesson themes and resources.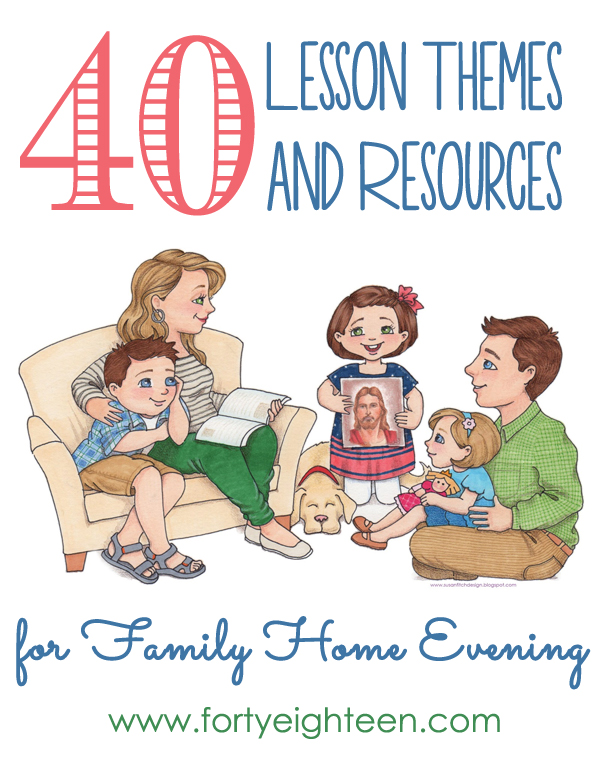 40 Family Home Evening Lesson Themes and Resources
Gospel Art Kit/Gospel Art Book
General Conference Talks
President Hinckley's 10 Virtues
Pres. Hinckley's 9 "Be's"
Home Teaching and Visiting Teaching messages
Priesthood/Relief Society manual
Christlike Attributes
The Savior's Teachings/Parables/Life
Prophets and Apostles
Personal/Family Goals
Personal/Family Challenge
Holidays and Major Life Events
Something you learned and want to share (life lesson, scripture study, church, seminary, etc.)
Bonus: Question Box – Set aside a box where your family can leave questions. Then you can address those questions at Family Home Evening. They could be gospel related or just about life in general.
We have a bookshelf that has a few shelves dedicated to Family Home Evening resources: manuals, pictures, magazines, etc. so I printed this list, added it to a binder with some of these resources (family proclamation, Articles of Faith, list of seminary scripture mastery scriptures, YW values, Scout law and oath, My Gospel Standards, personal progress and Faith in God booklets, etc.). Now it's easy to find and a great helpful resource for my family to use when they're preparing a lesson.
I am so excited about my new Sunday feature. I'm teaming up with Brittany of BrittanyBullen.com to bring a little more inspiration to your Sundays with a link-up called Spiritual Sundays. "If there is anything lovely, virtuous, of good report, or praiseworthy, we seek after these things," so we want you to share your inspiring posts with us. The idea is have a great group of uplifting posts all in one place. Here's a little more about it.

Hi and Welcome to Spiritual Sundays! Our goal is to get as many faith-promoting blog posts together in one place as we can so we always have something uplifting to read on Sundays. This linkup is open to people of all faiths, but we reserve the right to move your content if it is any way offensive.
If you haven't participated in a linkup before, here's how to do it politely:
1. Follow each host at least one of the accounts below (the more you follow, the more we want to follow back!)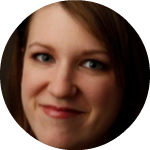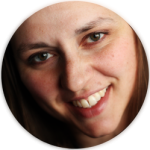 2. Submit as many appropriate links as you want below. (It doesn't have to be Sunday when you submit your links.)
3. Visit at least the person before you on the list so we make sure everyone gets some love! It's always nice to get comments that let the author know where you came from, too. Just a #SpiritualSundays after your comment would do the trick.
Thanks for stopping by and happy posting!