May 14, 2014 in Kitchen, Mailbox
Welcome to Day #3 of Kick Off to Summer Week, a multi-blogger event co-host by Lauren of From Gate to Plate and Summer of Summer Scraps. With summer quickly approaching and Memorial Day in a few weeks, we want to make sure you have plenty of ideas for your Memorial Day activities.
Each day we will be serving up a variety of different appetizers, main dishes, desserts, decor, printables and more all centered around the up-coming Memorial Day. We hope you enjoy all of these wonderful ideas. Tune in each day starting with Monday, May 12 and ending on Saturday, May 17.
We have great prizes up for grabs throughout the week so you will not want to miss out on any of the days! Follow #KickOffToSummerWeek2014 on Twitter to keep up to date with all of our spectacular ideas and giveaways!
Continuing with our Simple BBQ menu, today we're moving on to fruit side dishes. Fruit is pretty much my favorite food ever.
And bread.
And chocolate.
Okay, I just love food. But fruit is really high on the list.
I love a fruit tray with a great dip. Homemade whipped cream is my go-to fruit dip. I mean really, is there anything better than ripe strawberries with fresh whipped cream? I think not.
I also love the super simple dip that is just yogurt and whipped cream mixed in whatever portions give you exactly the flavor you like.
I have one more super simple dip that is a regular on my fruit tray. In fact, my kiddos know I love it so much, they made it for my Mother's Day breakfast. They know me so well. yum
This one was inspired by a recipe from Six Sisters Stuff, but I tweaked it a bit and I love it even more now. It's like taking your favorite PB & J and turning it into dessert.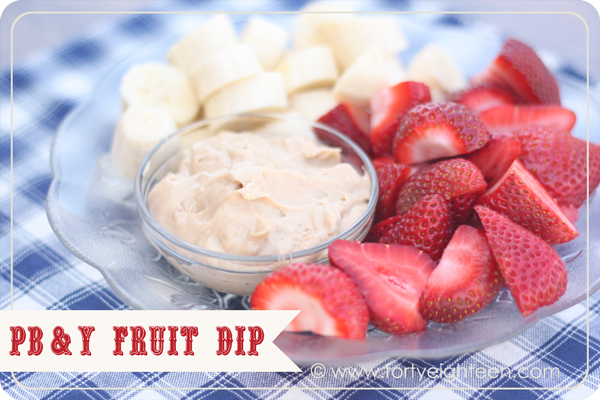 PB & Y Fruit Dip
1 part peanut butter
2 parts strawberry yogurt
Mix. Serve with fruit. Eat. Seriously, that's all there is to it.
You can make as much or as little as you want. Measure out your peanut butter and then use twice as much yogurt. If you have really healthy peanut butter or yogurt with no sugar, you may need to add a little something for sweetness. I used sugary peanut butter and yogurt, so it's plenty sweet just like this. And so, so yummy.
I love it best on bananas and strawberries, but try it on your favorite fruit and see how you like it!
Don't you love how easy this menu is turning out to be? If you haven't already, be sure to check out my Easiest Ever Grilled Chicken marinade and Creamy Corn Salad.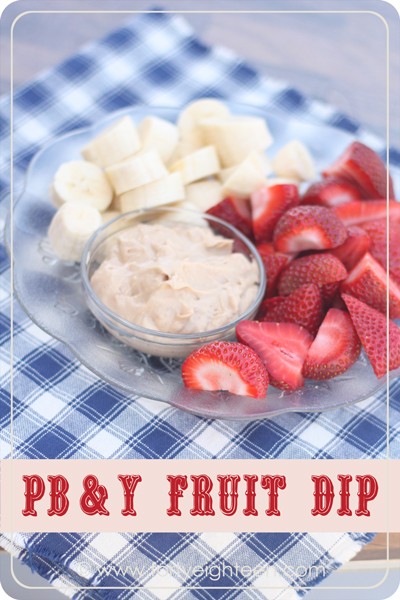 Still wanting more?! Check out the rest of the #KickOffToSummer2014 awesomeness below!
Lemon Honey & Rosemary Grilled Chicken Skewers by From Gate to Plate
Sausage & Veggies Tinfoil Dinner by Summer Scraps
Baked Rosemary Garlic Fries by Keep it Simple, Sweetie
Homemade Natural Bug Spray by The Haas Machine
Memorial Day Festivities by Lil Huckleberries
Corn Cob Jelly by Hezzi-D's Books and Cooks
Marshmallow Fruit Dip by Forty Eighteen
Trail Mix Oatmeal Cookies by Lady Behind the Curtain
BBQ Invitation Printable by My Daylights
Rhubarb Crisp by Love in the Kitchen
Mixed Berry Sweet Rolls by Like Mother, Like Daughter
Liberty Embroidery Pattern by Bits of Ivory
Red White and Blue Trifle by We Like to Learn as We Go
Chickpea Tabouli by Food Lust People Love
Dark Chocolate Pistachio Cookies by Life on Food
 I am so excited about our giveaway today!
Our sponsor for today is Gourmet Garden Herbs & Spices. If you enjoy cooking with fresh ingredients you will just love Gourmet Garden!
Gourmet Garden herbs are organically grown then simply washed, chopped, blended and packed into tubes to maintain the herbs freshness and nutrition. With Gourmet Garden you will be able to keep fresh herbs in your fridge for months with no waste.
They have a variety of herbs such as Garlic, Basil, Cilantro, Chili Pepper and much more! You can find Gourmet Garden in the fresh produce section of your supermarket. Be sure to keep up-to-date with Gourmet Garden Herbs & Spices on Facebook, Pinterest, and Twitter.
Gourmet Garden has so graciously offered up a cooler full of herbs and spices perfect for you next cooking and baking experience. Your cooler will include 4 ounce bottles of:
Garlic
Basil
Chili Pepper
Dill
Oregano
Cilantro
Ginger
Italian Herbs
Parsley
Lemon Grass
I always end up with wasted herbs in my fridge when I don't use them in time. These are so perfect for me!
Enter to win your very own cooler of Gourmet Garden herbs and spices in the Rafflecopter below.
 **Giveaway runs May 21 until May 28, 2014 at midnight EST. Giveaway is open to US Residents only. Winner must be 18 years of age or older. No cash value available**
**Disclaimer: This giveaway is being sponsored by Gourmet Garden. #KickOffToSummerWeek2014 bloggers have not received product or been compensated as part of this giveaway!**
What is your favorite way to serve – or dip – fruit?