Time for a Vacation and an RV Giveaway
April 23, 2014 in Mailbox by Melanie
Writing is like breathing to me, but lately I feel like I have been drowning. You know when life just gets sooo busy you have to make hard choices about what you simply don't have time to focus on? Well, that has been the whole past month for me. I am sooo ready for summer vacation!
Now I am finally coming up for a huge gulp of air and getting back to this poor neglected blog.
I really have been dreaming about summer vacation and talking with Mr. 4018 about all of the beautiful places I want to take our kiddos. We live in such a gorgeous place!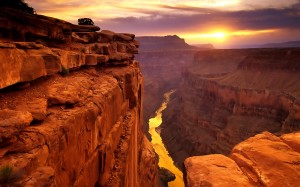 It seems only right that we visit the grand canyon at some point. I am from Arizona, after all, and we pass it every time we drive to my parents' house. But so far all my kids have seen of the grand canyon is "Hey, kids! Look out the window right now and you can see the edge of the grand canyon way over there! Oh shoot, you missed it."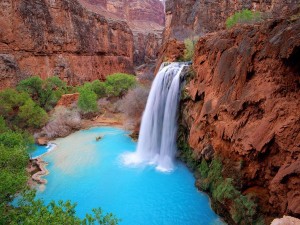 I grew up seeing pictures like this and wondering why we didn't visit that part of the grand canyon on our family vacations. Paradise in the desert.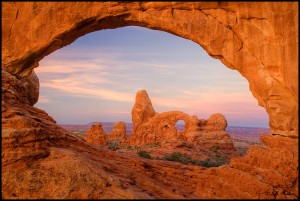 We could visit Arches and show our kids the place where this whole 4018 family thing started. If you look all the way to the left edge of the photo about in the middle, that's the exact spot where we were sitting when Mr. 4018 asked me that one question that changed our lives forever — and I said, "yeah." Not quite the answer he was looking for… but 17 years and 5 kids later, we're still traveling along this crazy journey together.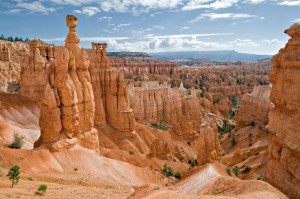 We have each been to Bryce Canyon separately but never together. It's only a few hours away and such a gorgeous place!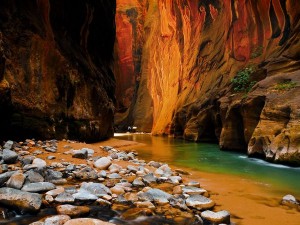 Another one that's only a few hours away and full of absolutely breathtaking scenery is Zion's National Park. We have driven through, but it's about time for us to stop and explore.
And there are so many more gorgeous places I dream of exploring!
I can hardly wait for camping this summer, but I'm, ahem, getting old, and it's hard to get any sleep on the ground in a tent. Last year I finally upgraded to a fabulous cot that I love (the girls all fight over it when we have sleepovers), but our tent has mesh walls and I still freeze all night long and wake up over and over again just wishing the night would end. And yet, somehow I still love camping.
I used to pass a huge RV seller on my way home every day, and I was practically drooling at all of the amazing RVs in the lot.
Drooling over RVs? I definitely need vacation.
But seriously, how much better would I sleep in an RV?! And then I could love camping even more because I wouldn't be too tired to be nice and have fun!
That's why I am so excited to be able to offer you this amazing opportunity to WIN a 5-day RV vacation!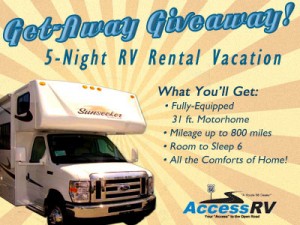 Hosted by Mamas Spot
Access RV is giving away a 5 night RV Rental vacation with 800 miles included in one of their current year 31′ double slide out motorhomes!! RV includes, TV/DVD with 5.1 surround, GPS navigation, back up camera, power awning, Serta Pillow-Top mattress, Air Conditioning, unlimited generator use, final cleaning and dumping and much more!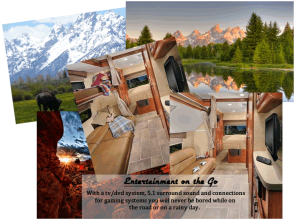 Our lucky winner will have until June 1st 2015 to use this amazing opportunity!
You and your family or friends could be going to Yellowstone, Grand Tetons, The Grand Canyon, or anywhere the adventure takes you!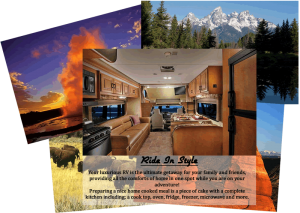 Ready to start your adventure? Hurry and enter using the rafflecopter form below:
a Rafflecopter giveaway
Vacation Dates are not available from July 23rd through Sept. 2nd. Vacation does not include insurance which can be provided by your auto insurance company. Drivers must be 25 or older with a valid drivers license and proof of insurance. Additional miles can be purchased at $1.55 per mile. A refundable security deposit is required at the time or reservation. Sales tax is required of $156.47.  For additional information, floor plan, etc. visit our website at www.accessrvrental.com. This certificate expires June 1, 2015
You have until May 9th to enter. The ARV of this trip is $2150! That's a lot of money you're saving when you WIN IT!
Where will you go for your vacation?