Tax Day Freebies
April 15, 2014 in Mailbox by Melanie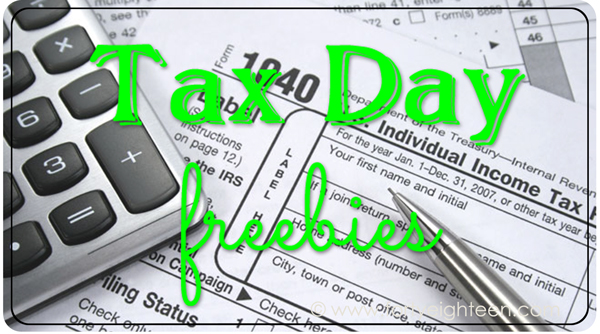 Whether or not your taxes are done, you can enjoy some tax day freebies and discounts today! Who doesn't love free stuff?!
Hard Rock Cafe – Perform a complete song on stage between 5-7 pm and get rewarded with a free entree up to $14.95. I kinda wish we had a Hard Rock Cafe close by . That sounds like fun.
Great American Cookie Company – Free chocolate chip cookie, limit one per person, no purchase required. No limit on how many locations you can visit.
California Tortilla – get free chips and queso dip with the magic words: "Taxes Shmaxes" (with purchase). Do you think anyone accidentally claims this one?
7-Eleven – Free medium slurpee. Chuck has been talking about slurpees every day for a week. We only get them once a year on free slurpee day, but now there are TWO free slurpee days. I'll be the coolest mom ever if I take her to claim this one today.
Cinnabon – Get 2 free cinnabon bites. yum
Bath and Body Works – buy 2 get 2 free (online only)
Boston Market – get 2 meals, each including a half rotisserie chicken and a choice of 2 home style sides and freshly baked cornbread, for $10.40. Like the 1040 tax form – get it?
Sonny's BBQ – half off the Irresistible Ribs Special: a plate of Sweet & Smokey or House Dry-Rubbed Ribs. I see what they did there…IRS. haha
Orange Leaf Frozen Yogurt – fill your cup (yogurt and toppings) for $4.15 with coupon no matter how much it weighs (claim offer on their Facebook page). 4.15 like April 15th. Clever.
Office Depot -Shred your documents – up to 5 lbs. of paper – for free with this coupon. Wish I had known about this before I spent hours decluttering and shredding old documents
Sonic – 1/2 Price Drinks all day long. My kids think Sonic Happy Hour is the greatest thing ever. Now it's all day long!
Arby's – Free Value Curly Fries April 15 with this coupon. Ah, curly fries – the only pregnancy craving Steve ever went out of his way to get me.
Culver's – $2 Turtle Sundae. Made with chocolate, nuts, and caramel – not actual turtles.
Melting Pot – Get 15% off your check, with code words "cheese me, please" Someone could accidentally claim this one, too, right?
Mimi's Cafe – Buy One, Get One FREE Breakfast or Lunch Entree when you buy two beverages. It may be too late for this one. Sorry!
Schlotzsky's – Free The Original Small Sandwich with the purchase of chips and 32 oz drink.
Freebies make any day a day to celebrate. Even tax day! Which one sounds the best to you?