May 17, 2014 in Kitchen, Mailbox by Melanie
Welcome to the final day, Day #6 of Kick Off to Summer Week, a multi-blogger event co-host by Lauren of From Gate to Plate and Summer of Summer Scraps.
With summer quickly approaching and Memorial Day in a few weeks, we want to make sure you have plenty of ideas for your Memorial Day activities. For the past six days we have been serving up a variety of different appetizers, main dishes, desserts, decor, printables and more all centered around the up-coming Memorial Day.
We hope you enjoyed all of these wonderful ideas and thank you for tuning in each day. We have great prizes up for grabs and you will not want to miss out on any of the days! Be sure to check out previous days out here. Follow #KickOffToSummerWeek2014 on Twitter to keep up to date with all of our spectacular ideas and giveaways!
For our final day of Kick Off to Summer Week, we're rounding out our Simple BBQ Menu with a simple, no-bake dessert that only takes a few minutes to throw together.
These Favorite Popcorn Balls were my go-to treat as a kid. I made them all summer long. I have fun memories of sculpting the gooey popcorn into animals and other fun shapes with my siblings. So much fun… and so tasty!
We always made this in two HUGE bowls, and that never seemed odd to me, so I was shocked to discover when I was a little older that our recipe that we made all the time had actually been doubled! I guess we really didn't need that much sugar that often, so I started halving our recipe to cut back to "normal."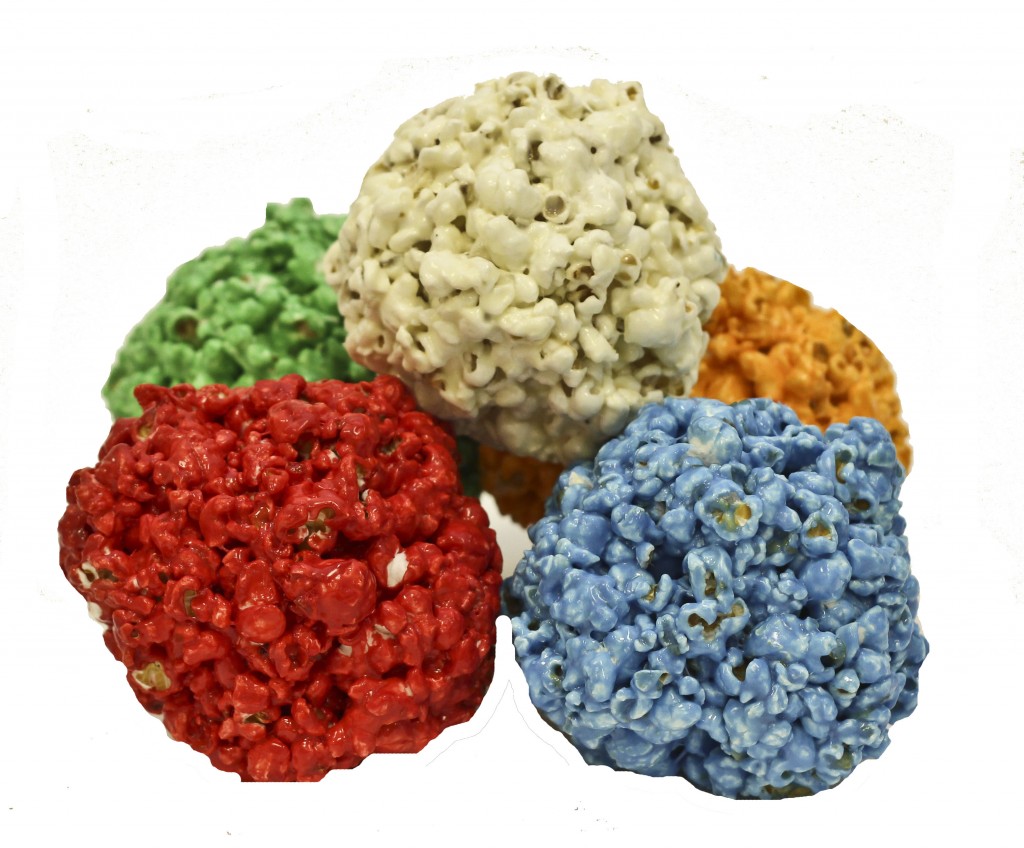 Favorite Popcorn Balls
1/2 cube butter
1/3 c water
1/3 c light corn syrup
1 c sugar
3/4 tsp salt
3/4 tsp vanilla
Food coloring
A big bowl of popped popcorn
Combine butter, water, corn syrup, sugar, and salt in a saucepan and bring to a boil over medium-high heat.
Now this is where you need to make a choice. Just how hard or soft do you want your popcorn balls to be? When my mom taught me how to make these popcorn balls, she taught me all about hard-ball stage and how to determine when your candy is there, but as I "perfected" my own version I realized I liked it a little more soft and gooey.
You can use a candy thermometer or the "cold water test" to determine when your syrup gets to the right stage. Fill a small bowl with cold water and drop a bit of the syrup into the water. Form the cooled syrup into a ball with your finger.
Soft-Ball Stage (235-245 degrees): When the syrup has reached soft-ball stage, the syrup easily forms a ball in the cold water, but it flattens one removed from the water.
Firm-Ball Stage (245-250 degrees): When the syrup has reached firm-ball stage, the syrup ball will feel firm but pliable and slightly sticky. It will hold it's shape when you remove it from the water, but it will lose its shape as it warms to room temperature.
Hard-Ball Stage (250-266 degrees): When the syrup has reached hard-ball stage, the syrup ball will hold its ball shape and deform only slightly with firm pressure. The ball will be quite sticky to the touch.
I like it somewhere in the soft- to firm-ball stage. Once your syrup is as done as you want it to be, remove it from the heat and add the vanilla and food coloring. Colored food is always a little more fun.

Form it into balls with a popcorn ball maker like this Jolly Time Popcorn Ball Maker
(affiliate link) we had when I was a kid. Or you can form them by hand – just remember to grease your hands first so the sticky popcorn sticks to itself instead of you!
However you make them, my family's favorite popcorn balls are a fun treat the whole family will love!
Don't forget to check out the rest of my blogger friends who've participated in this great event and show them how much you've enjoyed this week… drop them a line and show some love 🙂
Grilled Garlic and Basil Rubbed Pork Chops by From Gate to Plate
Mango Lassi by The Haas Machine
Shrimp and Corn Salsa Shooters by It's Yummi
15 Barbecue Favorites by Summer Scraps
Greek Pork Kebabs with Tzatziki by Hezzi-D's Books and Cooks
Favorite Popcorn Balls by Forty Eighteen
Making Memorial Day a Family Affair by Bits of Ivory
Sea Breeze Punch by Keep it Simple, Sweetie
Steak Sandwich Stackers by Lady Behind the Curtain
Memorial Day Whoopie Pies by The Freshman Cook
Steak Verde Tacos by Clarks Condensed
Red, White and Blue Sangria by Love in the Kitchen
Sriracha Coleslaw by It's a Keeper
Lemon Pomegranate Punch by Food Lust People Love
Peanut Butter Cup S'mores by Little Dairy on the Praire
Teriyaki Chicken and Vegetable Kebabs by Like Mother, Like Daughter
Vintage Patriotic Book Craft by We Like to Learn as We Go
We couldn't let this week end without one more fabulous giveaway!
We want to offer you a $150 gift card to Amazon. How awesome is that?! We're talking a $150 smackaroo's to buy all of  your Memorial Day necessities. Whether it's a new grill, grilling utensils, cookbook, new cookware, or decor.. we've got you covered! It's really easy to enter.. just follow along in the Rafflecopter!
Good luck and thank you for partying along with us this week!
a Rafflecopter giveaway

What a fun week! I'm ready to grill and party now!!! I hope you enjoyed it, too, and got some great new ideas and recipes for your Memorial Day and summer fun. You can find the rest of my Simple BBQ menu here.
Main dish • Easiest Ever Grilled Chicken marinade
Veggie Side Dish • Creamy Corn Salad
Fruit Side Dish • PB & Y Fruit Dip
Salad • Six Simple Pasta Salads
Drink • Perfect Fresh Lemonade
Dessert • Favorite Popcorn Balls
What is your favorite thing to grill?