5 Star BBQ
April 30, 2014 in Guest Room, Out the Door by Melanie
I am a carnivore, a total meat and potatoes gal. I always like a good burger and LOVE a great steak. I have a hard time serving a meal without meat and calling it dinner. Meat, meat, meat. yum
So when I was invited to an event at 5 Star BBQ in Orem, Utah, I couldn't get the car started fast enough. Barbecue? Yes, please.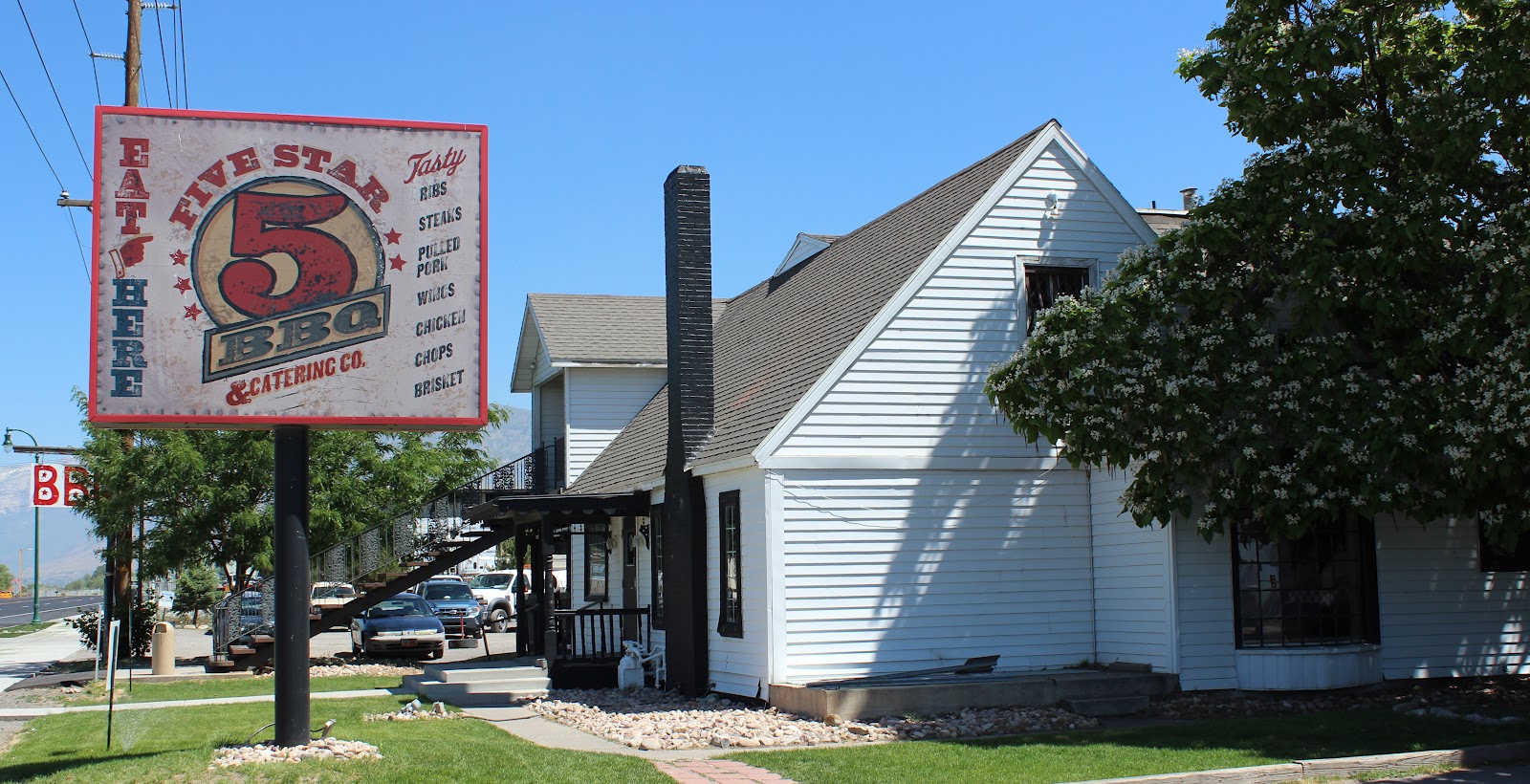 Cute, right? The restaurant is a house that was converted. It is easy to find with plenty of parking on the side and out back. When you walk in the front door, you find this menu board full of MEAT. Love.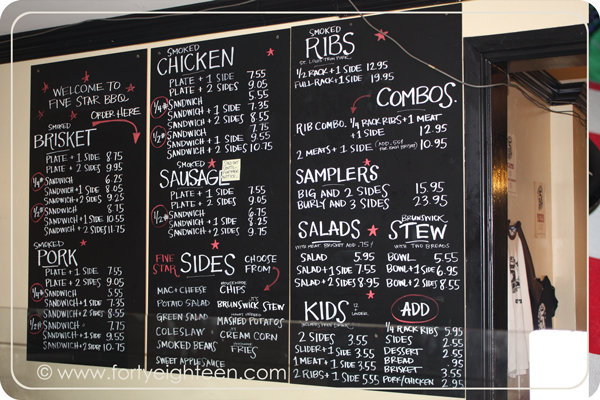 And of course, there are sides and salads, platters, and kids meals, too. The prices are reasonable and the serving sizes are definitely enough to fill you. I brought along my friend, Carrie from My Recipe Confessions, and we wanted to sample as much as we could of what they had to offer, so we ordered the Burly Sampler.
Burly. That's us.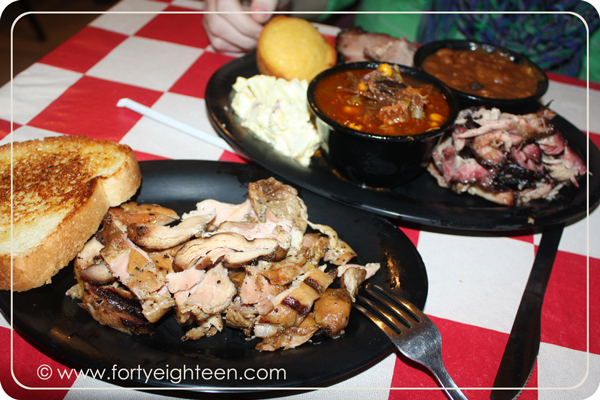 The nice guys behind the counter started loading up our plate… and then grabbed another one and kept right on loading it up. Mmm, I'm craving meat now.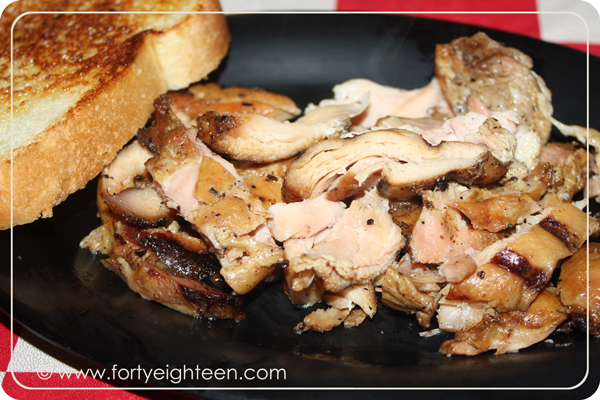 Our Burly Sampler was full of smoked chicken, pork, brisket, and ribs, potato salad, baked beans, stew, garlic toast, and cornbread. For 2 of us.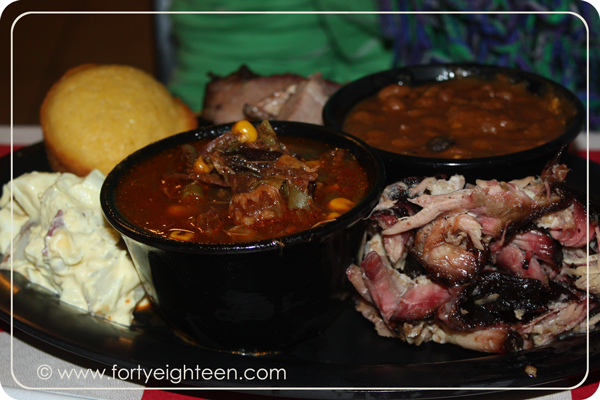 A little later in the meal, we had a cup of fresh cream corn delivered to our table because they had just finished a batch.
oh. my. yum.
You probably wouldn't expect cream corn to be the highlight of any meal, but it was seriously amazing. If you're thinking of canned cream corn, just stop that right now. This was fresh corn with an amazing creamy sauce that was simply the perfect addition to this meal. We loved it so much, in fact, that Carrie was inspired to create her own fabulous version.
As for the rest of the sides, I always love baked beans. I wasn't a huge fan of the stew, but I talked to another guest who loved it. It just wasn't my thing. I'm kind of a potato salad snob, and this one wasn't my favorite, but it was much, much better than those inedible potato salads from the grocery store.
The meat was good, although it was a bit dry. I have never found ribs that I like as much as Texas Roadhouse ribs, but these did have a good flavor. It was fun to try out the huge selection of homemade BBQ sauces. I loved the white BBQ sauce.
Overall, we enjoyed our night and had plenty of good food to fill us up. While it may not be my new favorite BBQ joint, there are definitely some dishes worth trying. Visit 5 Star BBQ for lunch or dinner Monday through Saturday. And don't forget to try the cream corn.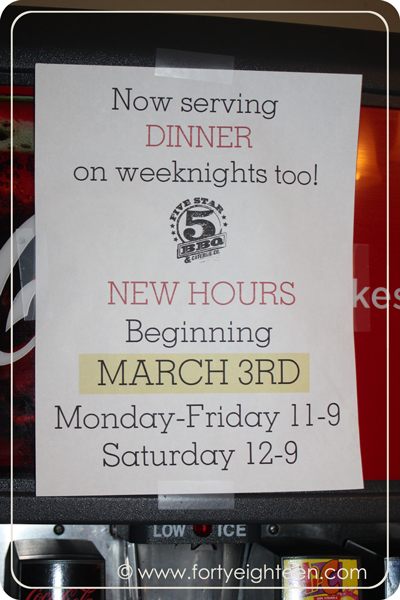 Looking at that menu, what do you want to try?