February 7, 2015 in Kitchen
When it comes to caramel popcorn, I believe there are two camps: those who like it crunchy like Cracker Jacks and those who like it chewy – like heaven. If you love caramel popcorn the right way, this will be your new favorite recipe. It's so good, so simple, so quick, and crazy good.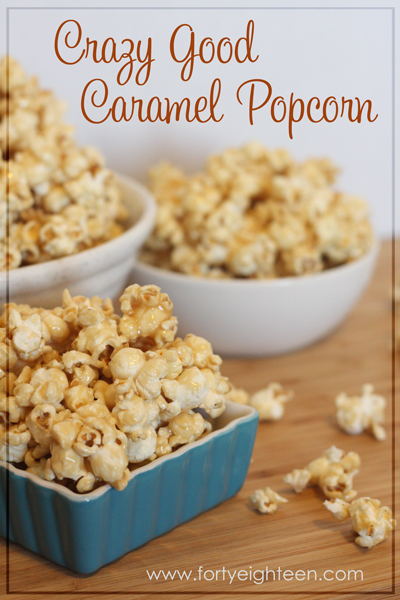 Crazy Good Caramel Popcorn
1/2 cup (1 cube) butter
1 cup brown sugar
1/2 cup light corn syrup
1/4 tsp salt
1/2 tsp vanilla
1/2 can sweetened condensed milk
popcorn
Start by popping the popcorn. I use 2 big bowls so I have enough room to stir the caramel over the corn. In fact, my favorite bowls for this are some big, red, plastic bowls I found at Walmart for $1.50.
To get the perfect amount of caramel to popcorn ratio, I use a little more than 3/4 cup but not a full cup of popcorn kernels. It's a good idea to pull out the unpopped and half-popped kernels that can end up in your bowl. It's no fun to bite into what should be a bite of chewy goodness and end up with a hard, tooth-breaking chunk instead.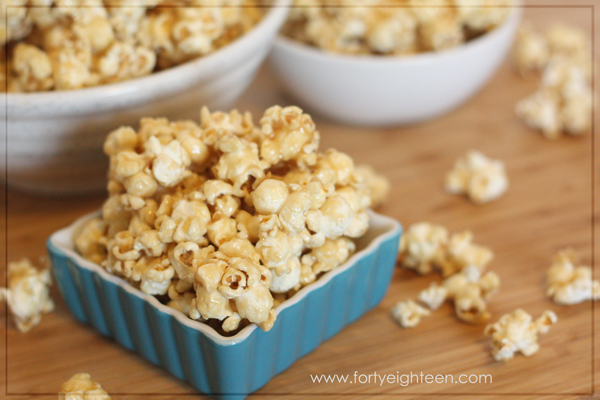 While the popcorn is popping, it's time to make the caramel. Start by melting the butter in a large saucepan. When the butter is melted, add the brown sugar, corn syrup, and salt, and bring it to a boil. If you're using salted popcorn, leave the salt out of the caramel.
Let it boil for 2-3 minutes, then take it off the heat and add the vanilla and half can of sweetened condensed milk. A can of sweetened condensed milk is 14 oz, so you will use a little less than 1 cup.
Put it back on the heat just long enough to heat it through. When it just barely starts to boil and you see little bubbles, take it off the heat for good because it's done!
Immediately pour the caramel over the popcorn and stir with a long wooden spoon until the gooey caramel coats every piece of popcorn. When I'm done stirring, I combine it all into one big bowl and try to restrain myself from eating the entire thing myself.  That's all there is to it!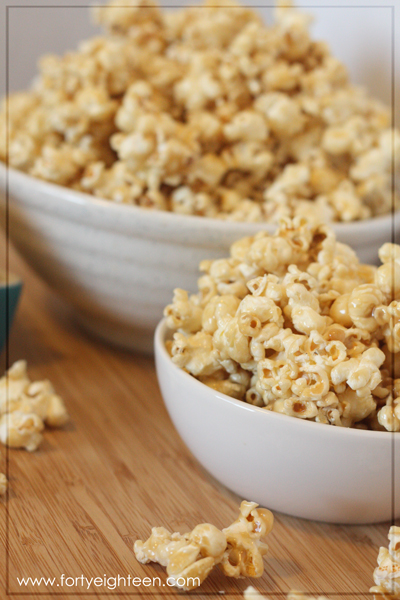 This recipe leaves you with an extra half of a can of sweetened condensed milk. You can make something fun like Brazilian lemonade or another great treat, but I usually use that half can as a perfect excuse to make another batch of caramel popcorn. Yum!
Tomorrow on Made From Pinterest, I'm sharing how I kicked this caramel popcorn up another notch by turning it into a fabulous Valentine's Day treat, including free printables and a microwave popcorn Valentine, too! Click HERE or on the image below to find that post at Made From Pinterest.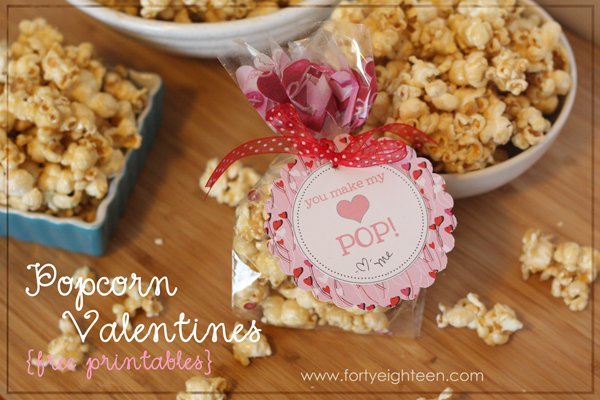 When it comes to caramel popcorn, which camp are you in? Crunchy or chewy little bites of heaven?