January 29, 2014 in Great Room, Kitchen by Melanie
I've had to make a few desserts lately, so I went searching for a fabulous pie for a pie social and a chocolate cake for National Chocolate Cake Day (January 27). We could call this Pinspiration: The Chocolate Dessert Edition.

We couldn't let National Chocolate Cake Day pass without an appropriate celebration, so I went searching for a chocolate cake recipe fit for a party. We have a favorite chocolate sheet cake recipe that is fast and easy and loved by everyone (even Beth, who doesn't like cake), but I wanted something different. I found this chocolate layer cake at Taste of Home and fell in love. My family ALWAYS requests the sheet cake for every event that requires cake, so I never get to do fancy cakes with big layers and lots of frosting anymore. This was a definite MUST pin and MUST try.


The cake was fabulous. Moist and delicious, dense enough to stack well, but not heavy or dry. One of the cakes stuck to the cooling rack and ripped apart when I tried to pick it up a little less carefully than I should. You can see that my middle layer is WAY smaller than the other two. hahaha The vultures descended and inhaled the unusable part until the counter was cleaner than when I started cooking. That little taste made us even more excited for dessert time.
I should probably make a little note here about my love of frosting. I LOVE frosting. I kept a can of frosting in my dorm room fridge just to sneak a spoonful when I needed a sugar high to make it through a late-night cram session. Oh, who am I kidding. I ate it with my bare hands whenever I wanted just because I could.
This chocolate frosting somehow managed to be unbelievably sour and sickeningly sweet at the same time. I made the colossal mistake of assuming it would work with the cake and proceeded to completely ruin this fabulous cake with this horrible frosting. So sad.
So I would definitely recommend the cake and I plan to make it again, but I will be searching for a much better chocolate frosting recipe that will complement this delicious cake. Click on an image to take you to the pin.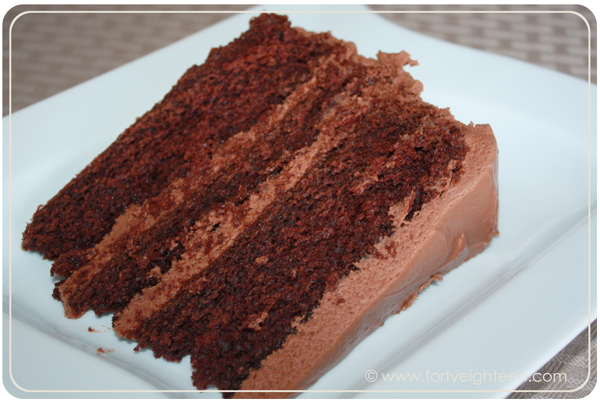 Sour Cream Chocolate Cake
1 c baking cocoa
1 c boiling water
1 c butter, softened
2-1/2 c sugar
4 eggs
2 tsp vanilla extract
3 cups cake flour
2 tsp baking soda
1/2 tsp baking powder
1/2 tsp salt
1 c ( 8 oz) sour cream
Dissolve the cocoa powder in the boiling water and set aside to cool. Cream the butter and sugar until light and fluffy, then add eggs, one at a time, beating well after each one. Add the vanilla. Combine the flour, baking soda, baking powder, and salt and gradually add to the creamed mixture, alternating with the sour cream. Beat well with each addition. Finally, add the cocoa mixture and mix well.
Pour batter into 3 greased and floured 9-inch round cake pans. Bake at 350 for 30-35 minutes (don't overcook or it will dry out) or until a toothpick inserted in center comes out clean. Cool for 10 minutes in pans before removing to cooling racks. Cool completely before frosting.
For the pie social, I knew everyone would be bringing a pie so there would be lots of flavors to try. I decided early on that I wanted to make something chocolatey and then headed to Pinterest to investigate. This Chocolate Mousse Cheesecake Pie from Mel's Kitchen Cafe was the winner… and I chose wisely.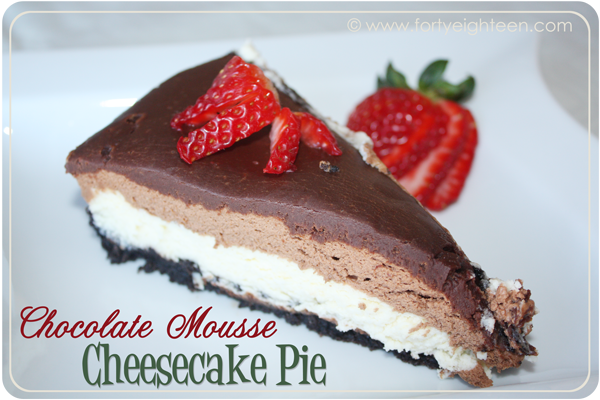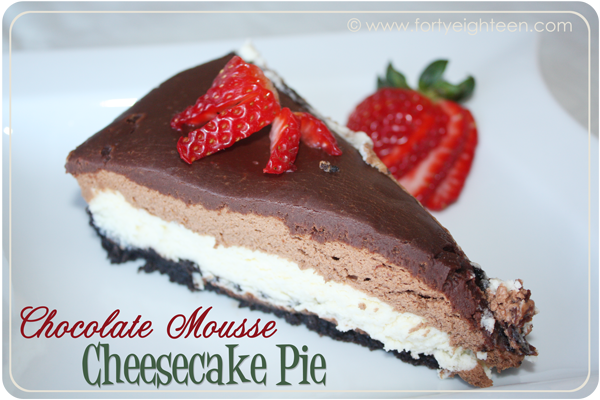 Full disclosure: This pie is not a quick fix. It takes a lot of time to put it together, but it is totally worth the effort. You start with an Oreo crust and add creamy cheesecake. Spread on a layer of fluffy chocolate mousse and top with rich, decadent ganache.
oh. my. yumminess.
Seriously. This pie is a. ma. zing.
It's incredibly rich, so you only need a small piece. Make it even more amazing by slicing up a strawberry and having a bit of strawberry with each bite.
Pure heaven.
Honestly, I'm not a huge Oreo fan, so I would make a different crust next time. Maybe Pecan Sandies or something with nuts, butter, and flour. Either way, I WILL DEFINITELY be making this again.
Chocolate Mousse Cheesecake Pie
Crust:
24 Oreos, crushed
5 Tb melted butter
Cheesecake:
8 oz cream cheese, softened
1/2 c sugar
1 large egg
1 egg yolk
1 tsp vanilla
1 c sour cream
Mousse:
1 c heavy cream, divided
2 egg yolks
1/2 c semisweet chocolate chips
1/4 c powdered sugar (optional for sweetness)
Ganache:
1/2 c semisweet chocolate chips
4 Tb butter
1/4 c heavy cream
1/2 tsp vanilla
1 Tb powdered sugar
Preheat the oven to 325. To make the crust, combine the crushed cookies and melted butter. Press on the bottom and up the sides of a deep 9-inch pie plate or a springform pan. Refrigerate while you make the cheesecake filling.
Cream the cream cheese and sugar until smooth. Add the egg, yolk, and vanilla and mix until combined. Blend in the sour cream. Spread the filling over the cookie crust and bake for 40-45 minutes, until the edges are set and the center is slightly firm. Mel says a little softness is okay, but you don't want it to be really jiggly. Let it cool completely before adding the mousse.
To make the mousse, bring 1/2 c cream to a simmer in a small saucepan. With your egg yolks in a small bowl, pour a couple tablespoons of the hot cream into the egg yolks and whisk vigorously until completely combined. Return the egg mixture to the saucepan with the cream. Keep whisking quickly and stir constantly until it bubbles and thickens, about 1-2 minutes. Remove from the heat and stir into the chocolate chips, whisking until the mixture is smooth and the chocolate is completely melted. Now is the time to add the powdered sugar if you would like a little more sweetness: whisk in up to 1/4 cup. Let the mixture cool to room temperature, mixing occasionally to avoid a skin forming across the top. Beat the rest of the cream (1/2 c) to stiff peaks, and gently fold into the chocolate mixture when it has completely cooled. Spread it over the top of the cheesecake layer and chill.
While it chills, make the ganache by heating the cream and butter over medium heat in a saucepan until simmering. Place the chocolate chips in a small bowl and pour the hot cream mixture over. Stir until the chocolate is melted, glossy and smooth. Stir in the vanilla and powdered sugar. Spread over the mousse and refrigerate until ready to serve (at least an hour up to a day in advance).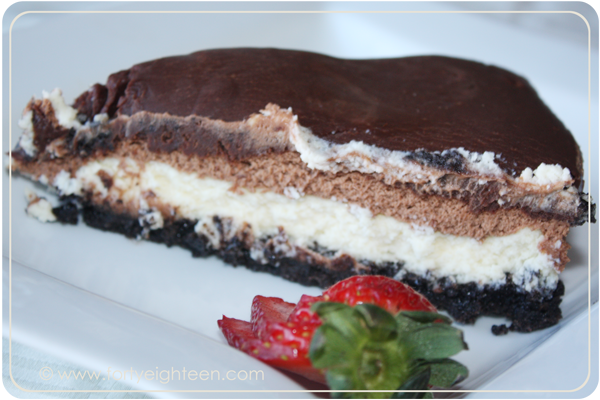 Have you made any great – or not so great – desserts lately?