Toffee Cheesecake Bars
November 28, 2014 in Kitchen by Melanie
Now that Thanksgiving is over, it's time to think about Christmas treats! But before we get started let me remind you about The 12 Days of Christmas Wish Lists to help you find the perfect gifts for everyone on your list. Find the first day's wish list HERE and follow the links to find the rest. I love finding the perfect gift for everyone I love.
Now on to the treats. Every Christmas when I was a kid, we would put together plates of treats to give the neighbors. I have fond memories of piling everyone into the car with our hands full of plates, running up to doors and delivering our favorite holiday treats.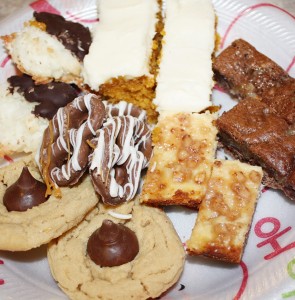 As soon as Steve and I had a family of our own, it seemed only right to carry on the tradition, but of course I couldn't just fill the plates with the same things year after year. It's too much fun to try new things and find new family favorites.
Toffee has been and always will be my favorite holiday treat. My dad makes it just like my grandma, and it's a true labor of love as he singes his eyebrows getting it just right. After the almond-filled toffee sets up, he melts a huge Hershey bar over each side and sprinkles chopped almonds over the whole thing to finish it off. Mm, mmm. My absolute fave.
I always have to have some toffee at Christmas. I don't live close enough to get some from my dad every Christmas, so on the years I decide to keep my eyebrows and don't make my own I need another toffee fix. These Toffee Cheesecake bars are just the thing. Not only do I get my toffee fix, but… cheesecake.
Mmm, cheesecake.
Toffee Cheesecake Bars
Crust:
1 1/4 c flour
1 c powdered sugar
1/2 c cocoa
1/4 tsp baking soda
3/4 c butter
Filling:
1 pkg (8 oz) cream cheese, softened
1 can (14 oz) sweetened condensed milk
2 eggs
1 tsp vanilla
1 pkg (8 oz) toffee bits, divided
Start with the crust. Combine the flour, powdered sugar, cocoa and baking soda. Cut in the butter until it gets crumbly. Press into a 9×13 baking pan. You don't need to worry about greasing the pan because 3/4 c butter. Seriously. Toss that in the oven and bake at 350 for 15 minutes.
While your crust is cooking, it's time to make the filling. In a bowl, beat the cream cheese until it's fluffy. Then add the milk, eggs, and vanilla. Beat that all together until it's smooth. Stir in 1 cup of the toffee bits and pour it all over the hot crust. Toss it back in the oven and bake for another 25 minutes, still at 350, until it's set and the edges just begin to brown.
It's starting to look amazing, right? Pull it out of the oven and let it cool for 15 minutes. Then sprinkle the rest of the toffee bits (1/2 c) evenly over the top. Let it cool completely and toss it in the fridge for a few hours until it's cold. Then serve it up or slice it up for your neighbor treat plates.
This is a great treat to make ahead for parties since you can just keep it cold in the fridge and pull it out when you're ready to wow your guests. And really, what could be better than cheesecake and toffee?? Yum!
What is your favorite Christmas treat? If you're looking for some new ones to try, I have joined with some fabulous bloggers to share some Christmas goodness today. I see a few I definitely need to try this year. If you find a new favorite, let me know!