September 6, 2017 in Linen Closet
When it's time for back to school shopping or looking for a great new dress for my gaggle of girls, I spend a lot of time searching for modest clothing that's not crazy expensive, and it's crazy hard to find. We are not always successful, and we have a hard time finding styles we love that are also modest and cute.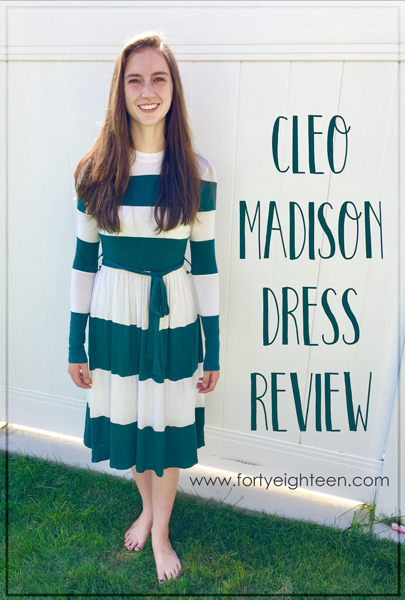 So I was excited to find this online boutique: Cleo Madison. They sent me a dress to try in return for an honest review, and I was thrilled to work with them. Beth was getting ready to leave for college, and looking for BYU-appropriate dresses was on her list of to-do's before she left, so it was perfect timing.
By the way, we just got her safely tucked in to her dorm a few days ago, and this mama heart isn't doing awesome with one of her babies living under a different roof. Feel free to send comfort chocolate. Anyway…
Cleo Madison dresses are cute and super affordable. I would say cheap, but that makes them sound like they're bad quality, and that's simply not true. The quality is as excellent as the pricing.
Beth chose this Cindy striped dress she loved and guessed on a size. They don't have a general sizing guide because their clothing is provided by several vendors, but they are happy to talk to you about sizing and are happy to exchange or return items that don't fit quite right.
Shipping was great – it came even faster than we expected. And the best part? Shipping is free in the US! I was out of town when it arrived, but Beth said she put it right on out of the package and it looked amazing. She definitely guessed right on the size. She did say it had a funky smell when she opened it that made her not want to keep breathing when she tried it on, but one wash and that foul odor was history.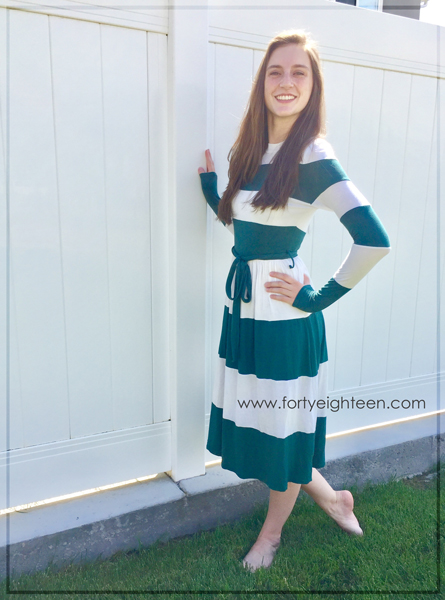 Bottom line, this dress is super cute. We LOVE the color. The dark green is gorgeous and goes perfectly with Beth's coloring. The fabric is really soft. The dress is ridiculously comfortable – she wants to sleep in it. The sleeves are a fabulous length, covering the wrist, not at all too short. The length of the dress is good – down past her knees so she feels covered and modest.
The fit is fabulous, and Beth feels like she looks awesome in it, so you know she's going to wear it all the time. At first she wasn't sure how to wear the tie well. It's not a style she's used to. But as soon as she figured out how she likes it, she really liked it. It only took her one wear to figure it out. It's not calculus…
Our only issue is the white stripes. They're pretty see-through. A slip, of course, fixes most of that, but she still feels very exposed on top. So she either needs a different slip style or something else to wear under the dress – like maybe a demi shirt to line just the top stripes.
Overall, we love the dress and loved our whole shopping experience. Beth says she would give it a 10/10… after she washed out the smell. For me, I love how great she looks and how much she loves it. And the price is fantastic – especially the fast free shipping. I would definitely buy from this fabulous boutique again. They have dresses, footwear, skirts, swimwear, and tops with our names on them! Not literally, of course… but I'm eyeing this one next.
What do you love at Cleo Madison?