Sausage and Potato Pie
March 27, 2014 in Kitchen by Melanie
You guys! You are going to thank me for this recipe. Seriously, it's soooooo good.
My kids always get a little nervous when I pull out the pie plates because they think they don't like pie. It's true we're not big fruit pie fans around here, but they love EVERY savory pie I have ever made.
I didn't even scare them with the pie plate this time (because I am in serious need of a deep dish pie plate), but as soon as they heard "pie" in the name, they were just as scared. Mwahahaha! They kept asking me what I was making for dinner like the answer would change. "Maybe this time I ask, dinner won't be pie!" Silly kids.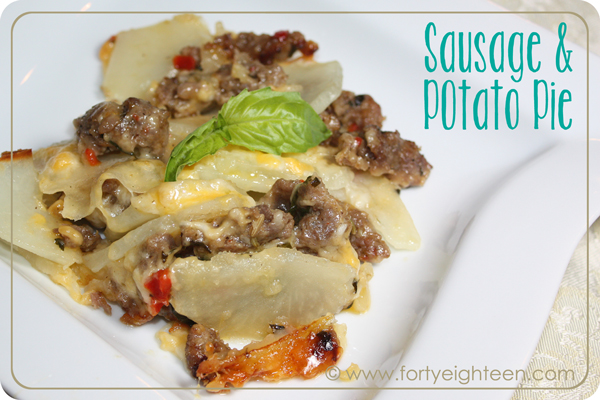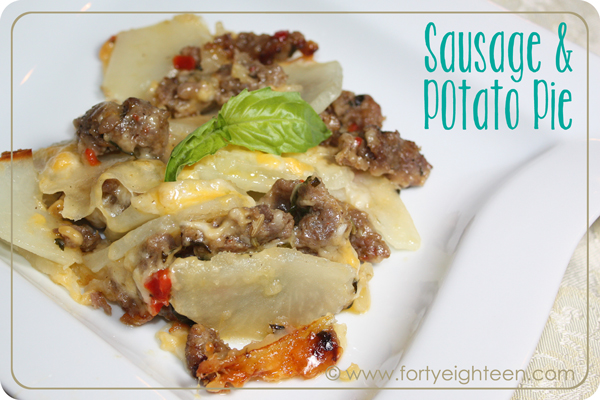 This Sausage and Potato Pie has a lot going for it. The Italian sausage and red peppers make it taste like a gourmet pizza. The zucchini makes you feel like you've had your veggies for the day. And the potato crust keeps it gluten free. Win, win, win!
Plus, it's pretty.
Sausage and Potato Pie
2 lb olive oil
1 large sweet red pepper – cored, seeded, and cut into strips 1/4″ wide
1 medium-size zucchini, thinly sliced
2 tsp minced garlic
1/2 tsp black pepper
1/4 c minced fresh basil OR 1/4 c minced flat-leaf parsley mixed with 2 tsp crumbled dried basil
1 lb sweet Italian sausage, casings removed, or diced kielbasa or ham
3 large potatoes, peeled and very thinly sliced
1 c grated Parmesan cheese
2 c shredded mozzarella, Monterey Jack, fontina, or cheddar cheese
Start by making the filling. Heat 1 Tb of oil in a skillet. Add the red pepper and zucchini and saute, stirring occasionally, for about 5 minutes. Then add the garlic, pepper, and basil and saute another few minutes. Add the sausage and cook until browned and you have no pink left. No one wants to eat raw sausage.
Remove your skillet from the heat and set it aside while you slice your potatoes. Make sure they're thin or they won't cook through. No one wants to eat raw potatoes either. Toss the potatoes with the other 1 Tb of oil.
If your cheese isn't grated yet, this would be the time to do it.
Now it's time to start assembling your pie. I use an oval 3-quart casserole dish, but a deep-dish pie plate should work great, too. Just don't try to fit it all in a standard pie plate or you'll be sorry. Unless you want an extra excuse to clean your oven – in which case, definitely opt for the smaller dish.
Make sure you spray some non-stick cooking spray in there so you can get the food out when it's time.
Layer 1/4 of the potatoes in your dish, overlapping slightly. Spread 1/3 of the sausage mixture on top of that and then 1/3 of the cheeses. Spread another layer of potatoes and then press the layers down slightly.
Repeat those layers again, starting with the sausage, and then again, pressing down each layer and finishing with a top layer of potatoes. (I had to slice another potato because I misjudged how much I needed on each layer.)
Cover it with foil, toss it in the oven, and bake at 425 for 40 minutes. Then remove the foil and bake another 5-10 minutes more until the potatoes are crisp and cooked through.
When you remove it from the oven, let it stand for 10 minutes at room temperature. If you have a lot of fat swimming around (I didn't), pour it off and then you're ready to serve.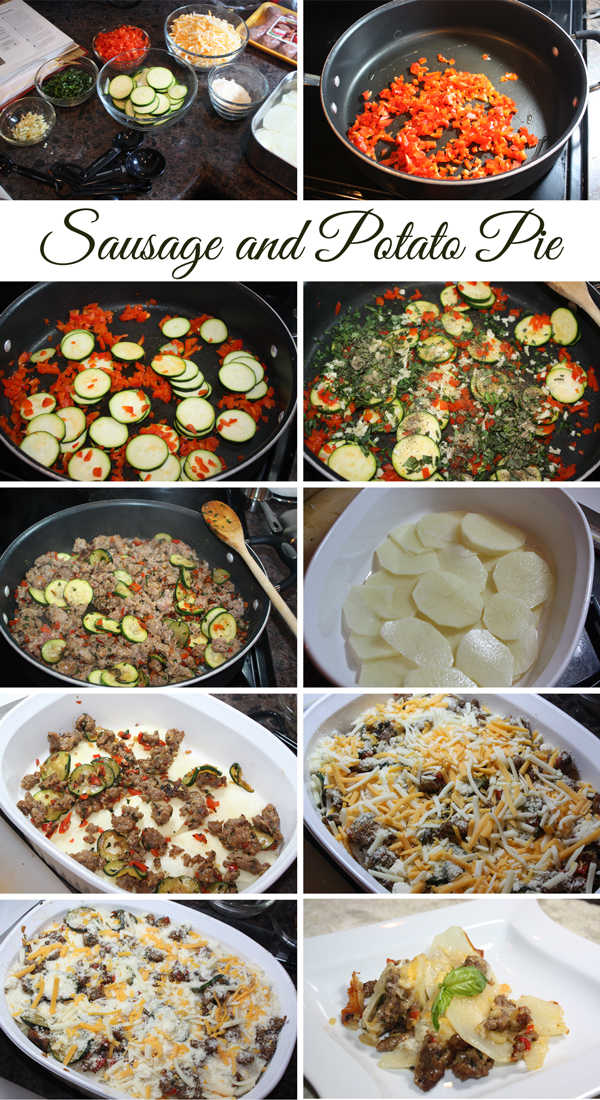 My kiddos inhaled their first servings and then asked for more. They still think they are afraid of pie, but I'm one delicious meal closer to convincing them that's simply not true.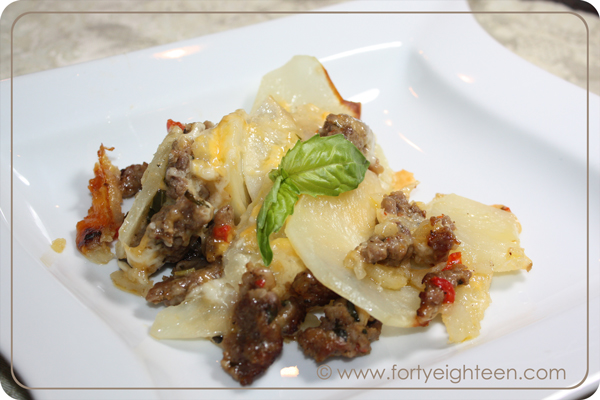 Today is the last day to enter to win a family photo session from Laura Hawkins Photography. If you're a Utah local, be sure to enter! (Click on the image for more info and to enter.)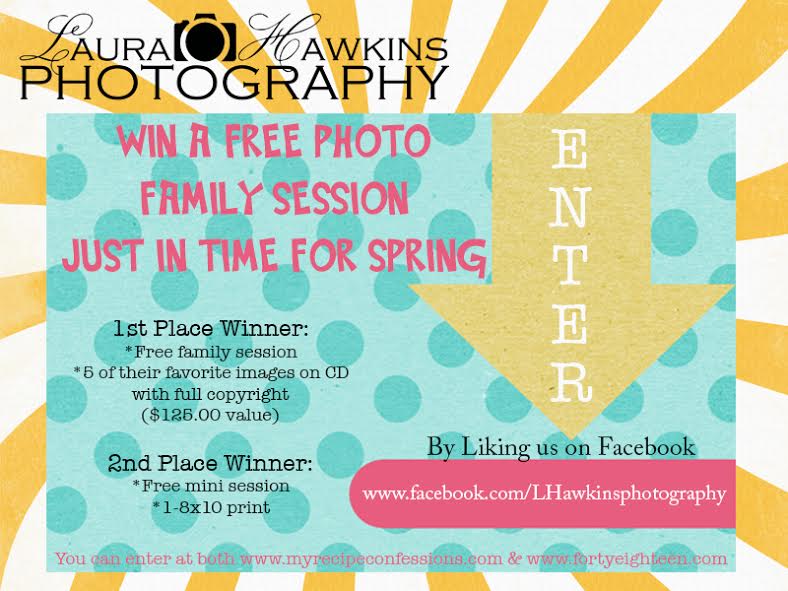 What is your favorite pie? Do you prefer sweet or savory?