Cherries + Cheesecake = Cloud Nine
February 20, 2014 in Great Room, Kitchen by Melanie
Happy Cherry Pie Day! I may have mentioned before that I am not a huge fan of fruit pies. Honestly, cherry pie really isn't my thing, but I couldn't let this day go by without celebrating somehow.
I think adding the word "cheesecake" is the best thing that can happen to a pie.
I'm also a huge fan of desserts I can cut into bars. I mean, let's be real. Bars are so much easier to eat. And so much easier to justify *just one more.*
One more bar? Sure! It's not like I'm eating a whole piece of pie!
So let's celebrate Cherry Pie Day with some fabulous Cherry Cheesecake Bars. All in favor?
I brought these to the kids' school for the teachers' monthly birthday treat from the PTA. I brought four different kinds of bars (and they were all delish!). When I went back later to clean up, there wasn't even a crumb of these left on the plate. They're so yummy.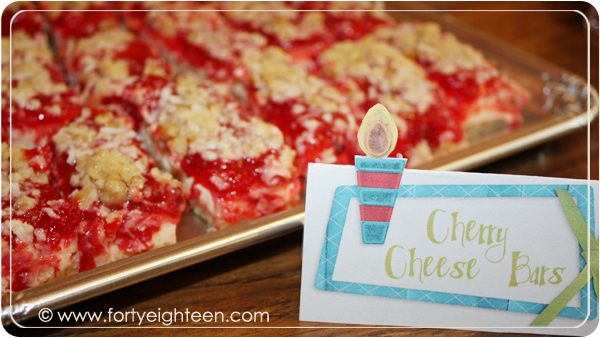 Cherry Cheese Bars
Crust:
1 c walnut pieces, divided
1-1/4 c flour
1/2 c brown sugar
1/2 c butter
1/2 c coconut
Filling:
2 pkg (8 oz each) cream cheese, softened
2/3 c sugar
2 eggs
2 tsp vanilla
1 can (21 oz) cherry pie filling
Start with your prep work. Preheat the oven to 350. Grease a 9×13-inch baking dish. Coarsely chop 1/2 c nuts and set them aside. You will use these later for the topping. Then chop the rest of the nuts.
For the crust, combine the flour and brown sugar. Cut in the butter until you have fine crumbs. Add 1/2 finely chopped nuts and mix well.
Take 1/2 cup of that mixture and add it to the nuts you set aside earlier. Press the rest into the the bottom of your baking dish. Bake at 350 for 12-15 minutes or until edges are lightly browned. Do not over bake.
For the filling, combine cream cheese, sugar, eggs, and vanilla. Beat at medium speed until well blended. Spread over hot baked crust and return to the oven. Bake 15 minutes. Do not over bake.
Spread the cherry pie filling over the cheese layer. Of course for Cherry Pie Day we'll use cherry, but you can substitute any flavor pie filling that sounds good to you. Next time I'm making strawberry. mmmmm I didn't want big chunks of cherries, so I used my immersion blender to puree the pie filling a bit first.
Return it to the oven and bake another 15 minutes. (Do not over bake. Are you sensing a theme here? Don't over bake.)
One more layer to go! If you haven't mixed the nuts and crust mixture that you aside, do it now. Then sprinkle it over the pie filling. Return it to the oven one more time and bake another 15 minutes. And what's our theme? Do not over bake.
Cool in the pan on a cooling rack, then refrigerate for several hours. When you're ready to enjoy this delectable dessert, cut it into bars and try not to inhale it. If you do have any bars left over, store them in the fridge.
Savor every single scrumptious bite. Happy Cherry Pie Day!