2 Simple Ways to Make Money Online
September 2, 2014 in Office by Melanie
I am in awe of moms who manage to work full time AND manage their household. Some days I feel like I'm barely scraping by. There are those magical days when I make scrumptious bread and feel like Supermom… but mostly just scraping by.
I love finding ways to make a few extra dollars at home. I have taught piano lessons, done a bit of tutoring, and even worked as a medical transcriptionist, but this post isn't about such a major commitment.
I'm a big fan of making a few clicks online every day and being rewarded. Naturally this isn't a recipe for making big money, but I love getting a $5 Amazon gift card (my reward of choice) every few weeks. Those little puppies really start to add up.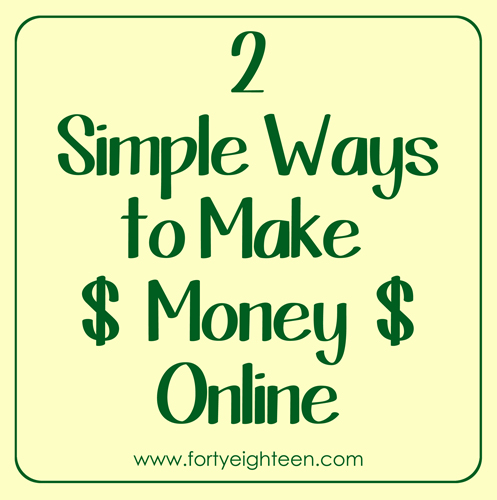 How many times do you search for something online? For me it's a few times a day. If I can get rewarded for something I do anyway, I should take advantage, right?
Swagbucks awards "bucks" for web searches, a daily poll, playing games, daily tasks, watching videos, and many other ways. Collect your bucks to redeem rewards. I like Amazon gift cards, but there are many more choices. Refer friends to earn even more bucks.
Remember to install the Swagbucks Toolbar for a daily point you don't even have to think about. Click here to join.

Bing is so easy, and you can count on your daily points. You get 1 point for every 2 web searches, 1 point for every 2 mobile searches, and 1 point for each extra credit search. Make Bing your homepage, click through the popular searches, and bam! you've got your points for the day. When you get to silver status, your referrer gets rewarded with 500 points – so refer your friends to get those points for yourself. When you get to gold status, you get discounts on the rewards you redeem.
Steve earns his Bing points at work, then he redeems his points for GameStop gift cards that he uses to feed his addiction. He plays one video game and they release a new version every year, so he ends up paying half price for his yearly fix after he has redeemed his reward points. You already know I'm a fan of Amazon gift cards, and they are an option in this reward store, too.
Click here to join.
Do you have a favorite way to make some extra money?
Disclaimer: These are referral links. I will get some reward points when you use my links to sign up.